Archive for the 'Agora! Anarchy! Action!' tag
It's time for another installment of Politics 101.
Last night was the last night was the deadline for political matters in the State of Minnesota. During the final hours a bill was passed that will allow unions to force daycare providers to unionize. Obviously most people who identify with the "left" side of the political spectrum are cheering while most people who identify with the "right" side of the political spectrum are calling foul. Political matters don't interest me but it's worth pointing out why the bill passed because it's the same reason any bill passes.
Let's look at the two sides of this debate. On one side we have the unions. For the most part modern unions are big businesses. They purport to defend workers from their bosses but most of the higher ups in the major unions are bosses themselves. The two unions involved in this fight were the American Federation of State, County, and Municipal Employees (AFSCME) and the Service Employees International Union (SEIU). Being high up in the AFSCME has its benefits as does being high up in the SEIU. Any organization able to offer six-figure salaries tends to have plenty of resources to throw at politicians.
One the other side we have the daycare providers and anti-unions activists. Many of the daycare providers are independent entities operated by a handful of people while the anti-union activists are primarily there because they don't like unions (or, at least, the unions involved in this fight).
Neither group has a great deal of resources at hand compared to their competition, which is why they lost. Politics is the art of initiating force en masse. The initiator of force, the state, exists solely through expropriation. In order to accomplish something politically you must have something to offer the state. The AFSCME and SEIU, being major corporations, have a lot of resources that can be transferred to friendly politicians. Major campaign contributions, jobs as lobbyists and consultants for politicians exiting politics, and even some information that is of value for insider trading can all be provided by the two unions. Meanwhile the daycare providers and anti-union activists have little to offer. Since most daycare providers are small organizations they cannot offer major campaign contributions or jobs for politicians exiting politics and since they're generally private entities they have nothing for politicians to trade on the stock market. The same goes for anti-union activists.
In order to succeed politically you must have sometime of value to offer the politicians. The reason the gun control advocates lost this year is because they had nothing to offer while gun rights advocates could offer plenty of headaches for politicians who voted for gun control. When one side is offering nothing and the other is offering headaches politicians tend to give the side offering headaches what they want hoping they'll go away. The battle over daycare providers is slightly different since one side has nothing to offer while the other side has a great deal to offer. In such cases the politicians will almost always align themselves with the side offering the riches.
It doesn't matter how many protests you perform or how many people you get to support your side at the Capitol, if you doesn't have a sacrifice to offer the politicians you're not getting anything from them. Democracy isn't about the will of the people, it's about the will of the decision makers and the decision makers can be bought.
Of course there is a solution but it would require daycare providers to join the "underground" economy. That is what I suggest all people do but, for some reason, many people believe that the "legitimate" economy is where they should conduct business.
Smokers of Minnesota are up in arms over the increase in cigarette taxes:
MINNEAPOLIS (WCCO) – Outside downtown office buildings, many smokers didn't want to talk about the possibility of a tax that will push a lot of cigarette packs into the $8 range.

Dan Jones says the tax may be the push he needs

[...]

The state says it has built the expected drop in smokers into their revenue projections. The current tobacco tax pulls in $423 million, and the state is predicting the higher tax would pull in $618 million a year.
The tax hike isn't surprising since Mark Dayton stated plundering from smokers was one idea to subsidize billionaire Zigy Wilf's stadium. What is surprising is the reaction many are having to the news. Many smokers are pissed, other smokers are thinking about quitting, and small government advocates are rightly pointing out that smoking is an activity enjoyed by many poor individuals so a tax on cigarettes is a burden on the poor (to enrich the top 1% no less!). I guess, to borrow an old marketing phrase from Apple, I think different. A tax increase on cigarettes in Minnesota is a business opportunity! Anybody willing to buy cheaper cigarettes out of state, deliver them to Minnesota, and sell them to people addicted to nicotine stands to make a tidy profit.
Tax increases, while depriving some portion of the population of wealth, generate business opportunities for smugglers. Increasing the tax on cigarettes makes the unprofitable enterprise of buying cigarettes in one state and selling them in another profitable. In fact, depending on the tax difference between the state cigarettes are purchased in and the state they are sold in, the profit could be very high.
One of my goals in life is to show people how statism can be exploited for personal profit without resorting to the statist tactic of initiating violence. Smuggling cigarettes into Minnesota is looking to be one of those wonderfully exploitable endeavors.
It finally happened, the state finally made it's move to suppress 3D printable firearms:
On Thursday, Defense Distributed founder Cody Wilson received a letter from the State Department Office of Defense Trade Controls Compliance demanding that he take down the online blueprints for the 3D-printable "Liberator" handgun that his group released Monday, along with nine other 3D-printable firearms components hosted on the group's website Defcad.org, while it reviews the files for compliance with export control laws for weapons known as the International Traffic in Arms Regulations, or ITAR. By uploading the weapons files to the Internet and allowing them to be downloaded abroad, the letter implies Wilson's high-tech gun group may have violated those export controls.

"Until the Department provides Defense Distributed with final [commodity jurisdiction] determinations, Defense Distributed should treat the above technical data as ITAR-controlled," reads the letter, referring to a list of ten CAD files hosted on Defcad that include the 3D-printable gun, silencers, sights and other pieces. "This means that all data should be removed from public acces immediately. Defense Distributed should review the remainder of the data made public on its website to determine whether any other data may be similarly controlled and proceed according to ITAR requirements."
I think we all knew this was coming. To tell the truth I hoped it would come. This was the overt act of censorship that was needed kick the Streisand effect into action and, in so doing, ensure that the 3D printer models created and hosted by Defense Distributed will never die. As it stands the number of seeds for the Defense Distributed files has jumped to several hundred. I've even found a Tor hidden service that is hosting the files (you need to use the Tor Browser Bundle to access that link). As I've heard several people say, you can't stop the signal.
As I stated in my post explaining methods to render the Cyber Intelligence Sharing and Protection Act (CISPA) irrelevant, the need for anonymity and strong encryption is greater today than ever. The state is trying to spy on our communications and censor material posted online. While some may wish to beg the state to allow information to flow freely we know they aren't going to comply. Because of their desire to control information we must bypass their ability to detect and censor information they find objectionable.
When the state makes attempts like this to censor information it allows us to test our ability to preserve said information. As it stands more people have downloaded the 3D printer models provided by Defense Distributed than would have if the state hadn't made an effort to censor the models. In fact I've had several friends who were uninterested in 3D printed guns ask if I knew where to get the files. Now that the files have been declared verboten everybody wants a copy. The state really shot themselves in the foot with this one.
Harry Reid appears to be confused. In his world, likely created by the onset of dementia, he believes that the Tea Party and anarchists are equivalent:
Senate Majority Leader Harry Reid (D-Nev.) says the Tea Party is the main reason why things are not getting done in Congress and views it as a party of modern-day anarchists.

Reid on Wednesday afternoon stood by comments he made on the Senate floor last week comparing Tea Party-affiliated Republicans to 19th century American anarchists.

"I believe that, my experience with the Tea Party, is that they are against government in any form. They throw monkey wrenches into the government," Reid said during an interview on the "Rusty Humphries Show."
The Tea Party isn't ready to rock with us anarchists. They're like the metalcore fans at the death metal show. While they know some of the lingo and can name a some well-known bands they still complain about their inability to understand the lyrics and won't venture forth into the mosh pit. Given a few years to mature they may be ready to rock with the big boys but they're not at that point yet.
Through my mistaken adventure in libertarian politics I attended several Tea Party rallies. Most of the people attending those rallies would qualify, in my book, as being quite patriotic. They love the United States of America, the Constitution, an believe the government has been hijacked by socialists but is still legitimate. What most Tea Party members seem to want want to kick the socialists out of the government and replacement with good all-American conservatives. Tea Party members generally seem to be OK with the concept of taxation and believe we're simply being taxed "too much." The neoconservatives in the Tea Party movement (of which there are many) support having a large standing army and even believe that defense is one of the few rightful duties of the federal government. To understand the Tea Party one need only use a layman's interpretation of the Constitution (as opposed to the convoluted lawyerly interpretation used by the state).
Us anarchists differ by opposing the state in its entirety. We don't believe in any taxation, oppose standing armies, and don't believe there are any rightful duties of a state. Those of us who identify ourselves as anarchist don't believe that the government has been hijacked, we believe the government is running as intended. Whether socialists or conservatives are in charge is of no consequence to us because politicians on both sides of the political spectrum want to expropriate from the general population.
It's true that many members of the Tea Party may eventually give up their small government desires and transition to no government desires. Tea Party members who transition in such a way will likely become anarcho-capitalists. This isn't unique to members of the Tea Party though, many socialists and communists may eventually transition to anarchism, specifically anarcho-communism. With that said members of the Tea Party, socialists, and communists haven't made that transition and many never make that transition. They're toes may be in the water but they haven't decided if it's too cold to jump in yet. To say any of them are equivalent to anarchists are is completely wrong.
I just want it stated for the record that if I ever have a kid I want him or her to be like this kid:
If you pay any attention to Minnesota politics you probably know two things: Minnesota doesn't appear to follow any specific political philosophy and our passive aggressive nature makes any political debate very boring. The person many Minnesotans refer to as Governor (I'm not sure why they all use that title, I think it's supposed to indicate the person is a psychopath or crook or something), Mark Dayton, decided to hold a public meeting in Shakopee and wasn't happy about the way he was treated. A few weeks ago the politicians in St. Paul decided to give themselves a 35 percent raise. As you can guess the people stuck footing the bill for the politicians' salaries, the tax victims, weren't overly happy. During his meeting in Shakopee Dayton tried to justify the raise and was appropriately heckled by the audience:
As he was explaining why, the audience heckled and interrupted him.

"Let me just finish," he objected, according to video recorded by the Minnesota Jobs Coalition. "I've been all over the state and I've never had people behave this rudely. You know, if you want to say something, raise your hand and get a mic."

Asked about the comment, the governor said on Tuesday that members of the audience did not just disagree with him they displayed "very juvenile kind of behavior," which reminded him of the 9th graders he taught in a New York City public school decades ago.

"It was rude and if they can't handle the truth, they can't handle the truth, but that's the truth as I perceived it," Dayton said. He added that the audience applauded when he hushed the crowd, one of the few points of unanimity at the event.
Responses to the incident have been mixed but seem to be leaning towards disapproval, as you would expect from a state where people refuse to openly state their disagreements. A lot of people believe that politics is serious business and must only be conducted in the most bland lawyerly manner. Anybody who shows even an inkling of disrespect while discussing politics is derided and told that such behavior is unbecoming of civilized people (yet stealing more money from tax victims is somehow regarded as civilized behavior, go figure).
Fuck that. I hereby endorse the actions of the hecklers at Shakopee. The people were rightly pissed and being spoon-fed bullshit. Why should the audience act "civilized" under such conditions? Furthermore why should anybody be expected to show respect to a politicians? Politicians are little more than mobsters. They demand "protection" money and will kidnap you if you refuse to pay it, always try to take a cut of whatever economic activity is occurring on their turf, and claim their actions are legitimate because a bunch of people showed up to polling places and filled in an oval next to their name. In fact politicians are even worse than mobsters because mobsters usually admit that they're stealing.
In fact I believe we're taking this politics thing far too seriously. Listening to most people discuss political matters would lead you to believe such discussions actually mattered. The reality of the political system is that the state doesn't listen to us mere peasants and does whatever it feels like doing. When somebody becomes too big of a thorn in the state's side they have him kidnapped or killed and write off their act of malice as being legal and therefore, somehow, legitimate. This is why I prefer political discussions involved the Internet. Instead of a bunch of people discussing politic matters in a super serious fashion you get things like this: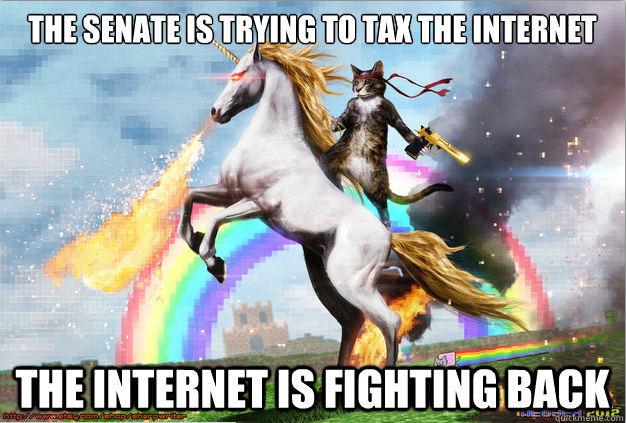 Image swiped from Facebook.
Yes, that is a cat holding a gold Desert Eagle riding a fire breathing unicorn. That's a political argument on the Internet and it's far more productive than most political discussions in real life because you actually have something to show after the discussion concludes. That picture is awesome to look at in any context. Hell I want that picture on a poster so I can hang it in my living room.
I believe that Internet-based political discussions are more jovial because underneath the discussion is an implication that the situation will be worked around. Most of the real life political discussions I've been a party to involve people looking for political solutions. They discuss running or supporting candidates, introducing legislation, and playing within the rules set by the state. Denizens of the Internet generally discuss ways of bypassing new legislation. Sure, there are calls for writing congress critters but there are also people working on technology that renders proposed laws irrelevant. An Internet sales tax, for example, can be defeated by anonymizing transactions. Silk Road uses Tor hidden services and Bitcoin to bypass laws on drugs that haven't received the state's blessing. The proposed Cyber Intelligence Sharing and Protection Act (CISPA) can be rendered powerless with proper cryptography.
I think the general tendency to focus on practical solutions allows a great deal of the Internet to see politics for what it really is, a joke. It's unfortunate that more people don't see this. The people of Shakopee obviously realize that Dayton's visit was mere lip service meant to shut the peasantry up and they acted accordingly. Those people should be applauded and looked at as an example of how political discussions should be held. What can I say, I'm a fan of calling a spade a spade and treating a joke as a joke.
While my opposition to intellectual property can easily be justified by pointing out the absurdity of driving a man to suicide because he may have violated intellectual property laws I also like to point out the ways intellectual property laws make negatively impact all of our lives. Healthcare in this country is absurdly expensive. Advocates of state controlled healthcare will tell you that the reason healthcare in the United States is so expensive is because of greedy capitalists and inefficiencies inherent in the free market. These claims are false. One of the biggest reason healthcare in the United States is so expensive is because of the state, namely the monopolies it grants on ideas:
Why does Gleevec, a leukemia drug that costs $70,000 per year in the United States, cost just $2,500 in India?

It's seemingly simple. Gleevec is under patent in the U.S., but not in India. Accordingly, Novartis, its Swiss-based manufacturer, may prevent competitors from making and selling lower-cost versions of the drug in the U.S., but not in India.

Last week, India's highest court rejected an application to patent Gleevec. While the legal issue in the case is important — the patentability of modifications to existing drugs under Indian law — the impact of the decision will likely be broader than just that issue, escalating a long-simmering fight over patented cancer medications in emerging markets.
Unlike the United States, which suffers under atrocious intellectual property laws, other countries aren't nearly as idiotic when it comes to such matters. Patents on medical procedures and drugs are one of the biggest contributors to the healthcare costs in the United States. When one company is granted a monopoly on a medical procedure or drug they can set the cost to whatever they want. In other countries where such intellectual property laws aren't observed producers of medical procedures and drugs must set their prices competitively or be knocked out of the market.
After most socialist revolutions the newly established burgeoisie (the revolutionaries who claimed to be fighting for the proletariat) begin monopolizing the economy. This monopolization involves the use of violence in an attempt to completely suppress markets. Shortly after the state begins its war on markets nasty periods of bread lines and starvation begin. As it turns out there is no way for the state to plan an economy and when it attempts to do so everything falls apart. Fortunately markets, which are nothing more than events of human economic interaction, cannot be suppressed and when things start turning south in a planned economy markets begin to spring up in spite of the law. An interesting editorial in the New York Times written by a North Korean expatriate explains who even in a totalitarian state like North Korea markets continue to be the salvation of the people:
Dialogue will never entice the regime to give up its nuclear weapons; the nuclear program is tightly linked to its survival. And talks will not lead to change over the long term; the regime sees them only as a tool for extracting aid. High-level diplomacy is no strategy for getting the regime to make economic reforms. The key to change lies outside the sway of the regime — in the flourishing underground economy.

All North Koreans depended for their very survival on a state rationing system until it collapsed in the mid-1990s. Its demise was due in part to the regime's concentrated investment of funds in a "party economy" that maintained the cult of the Kims and lavished luxuries on an elite instead of developing a normal economy based on domestic production and trade. Desperate people began to barter household goods for rice on the streets — and the underground economy was born. With thousands of people starving to death, the authorities had no option but to turn a blind eye to all the illegal markets that began to pop up.
Like the Soviet Union, North Korea now has a flourishing "underground" economy, which is the only thing preventing more people from starving to death. In fact the "underground" economy has become so rampant that party members have had to give up the ideals of socialism and involve themselves in markets.
Jang Jin-sung, the author, rightly points out that North Korea's salvation from tyranny isn't diplomacy, sanctions, or war. The country's salvation lies in its markets. The only way to topple a regime is to take away its power and the only effective means of doing that, without establishing another regime in its place, is to starve it of resources. Socialist states such as North Korea monopolize the economy because it gives them unfettered access the nation's resources. Instead of burdening the general population with taxes socialist states merely claim that the best way for everybody to flourish is if the entire economy is controlled by the ruling class (which is ironic when you consider the philosophical reason for socialism is supposedly to overthrow the ruling class and empower all people).
Although they probably don't realize it the people in North Korea who are participating in the "underground" economy are agorists. Agorism is a simple idea where the people withhold resources from the state by participating in an "underground" economy. Through this practice the state is starved of resources and loses its legitimacy in the eyes of the people. Who is going to suffer a state when it does nothing but take resources? The people of North Korea can be saved but it is up to them. No outside force is going to save them. At most an outside force, such as the United States, would merely topple the current regime and put another, possibly more brutal, regime in its place. If the North Korean people can topple the regime by depriving the state of resources they will come out with a functioning economy already in place and have no need to suffer another regime.
Although the term anarchy is often incorrectly used as a synonym for chaos the true definition of the world means "without rulers." While various branches of anarchism disagree about what is meant by "without rulers" most branches agree that it means an absence of coercive rule (the reason for the disagreement is the varying criteria regarding what is coercive). Within the realm of politics many people often refer to rights. Like the various branches of anarchism, the various political philosophies disagree about what constitutes a right but most of them share the definition of a right, which is the absence of coercive rule used to prohibit actions. The right to free speech really means an absence of coercive control over what somebody expresses. The right to keep and bear arms really means an absence of coercive control over possessing and carrying arms. In essence rights are anarchy. The debate between gun rights and gun control activists can therefore be boiled down to whether or not coercive force should be used to prevent somebody from possessing or carrying firearms and to what extent that force should be employed.
JayG over at MArooned made an excellent statement regarding rights:
Look, freedom is messy. It's scary, and dangerous, and unpredictable. Living in a free society means, yes, it is possible that the wrong people might do something that winds up in innocent people getting hurt.
Rights are frightening to many people because the absence of control also means an inability to predict outcomes. Will an absence of control over firearm ownership lead to a more peaceful society or a more violent society? Although deductive logic and available research indicate the latter, there is no way to know what the future will bring. However we do know what the presence of control will bring, the status quo. To quote Jeffrey Tucker:
Anarchy is all around us. Without it, our world would fall apart. All progress is due to it. All order extends from it. All blessed things that rise above the state of nature are owned to it. The human race thrives only because of the lack of control, not because of it. I'm saying that we need ever more absence of control to make the world a more beautiful place. It is a paradox that we must forever explain.
Progress is only possible when there is an absence of coercive rule. Henry Ford didn't streamline automobile production because a state goon put a gun to his head and said, "Make building cars more efficient." Mr. Ford's advancement of automobile production only came about because he was free to act on his idea. Steve Wozniak didn't create the first affordable mass-produced personal computer because some thug told him to. The Apple I came about because Mr. Wozniak was a brilliant inventor who wanted to bring the power of computing to the average person. This wonderful communication system we call the Internet is another demonstration of the power of anarchy. While the infrastructure remained under the control of the state little happened. Once people were given unfettered access to the Internet is began to change society and we not sit here and enjoy the ability to watch movies and television shows on demand, listen to music on demand, and do our shopping from the comfort of our living rooms.
While freedom, that is to say the recognition of rights, may seem scary in the long run it usually turns out for the better. Coercive rule, on the other hand, tends to turn out far worse. Most of the scary things we learn about in history stem from extremely coercive regimes and individuals. It's not surprising when you consider that those in power have an interest in maintaining the status quo. Politicians who expropriate wealth from the general population have a good reason to advocate for the disarmament of the general populace. Without doing so the general populace may decide to rise up when the politicians begin taking too much.
Gun control advocates believe they can make society better by inflicting more control on it. Their theory may sound good on paper but historically it's unprecedented. More control generally means less progress. In fact enough control seems to return humanity to more barbaric times. As regimes or individuals gain more control over a population violence is often the result. This may be because people have an innate desire to be free, having control over a populace reduces the cost of inflicting violence upon them, more violence must be continuously implemented in order to gain more control, or some other reason(s). But history tends towards freedom being far less messy than the lack thereof. While bumps may occur in a free society those bumps tend to be relatively mild to the genocides and death camps that are so common with the most tyrannical regimes. In the end less control tends to be better for everybody and because of that more actions should be recognized as rights everyday.
It appears that Bitcoin hasn't hit the floor yet. This news has left many members of the Bitcoin community scrounging for a scapegoat. Reading various Bitcoin communities (although the /r/bitcoin subreddit has provided me with the most entertainment) it seems the recent devaluation of Bitcoin was caused by automated trades performed by bots, fake libertarians (I guess you can only be a libertarian if you invest heavily in Bitcoin), and a secret cabal of central banks. While the last scapegoat sounds the most plausible of the three (those central banks are ruthless bastards) I think the community is ignoring the most likely cause: Bitcoin is a new technology.
Bitcoin really is the first notable crypto-currency. Although previous crypto-currenciies have existed none of them enjoyed the prominence that Bitcoin enjoys today. Most people alive today have lived their entire lives using state controlled fiat currencies. Bitcoin is the opposite of what we call money today. It's a decentralized currency that cannot be inflated past a certain point (only 21 million Bitcoin will ever exist). The decentralized nature of the currency means no single entity can wield monopoly control over it. It is also the first free-market monetary system that most of us have experienced. In other words, Bitcoin is a revolutionary idea and, like all revolutionary ideas, nobody can predict how it will, or won't, change things.
Speaking in software terms the concept of Bitcoin (not to be mistaken for the network, clients, or services) is in the alpha stage of development. People participating in the Bitcoin community should understand that they are testers and should expect to find copious amounts of bugs that need to be worked out. Is Bitcoin vulnerable to Distributed Denial of Service (DDoS) attacks? If so, that must be corrected. Is Bitcoin too reliant on single points of failure? If so, that must be corrected. Is it too hard for the average person to acquire Bitcoin or use it in everyday transactions? If so, that must be correct. Growing pains are unavoidable when working with a technology that few, if any, understand the ramifications of.
Instead of playing the blame game I believe the Bitcoin community would be better served by noting the failure and thinking of methods to utilized the currency's main features to overcome that failure. For instance, I've seen a lot of blamed aimed at Mt.Gox, the largest Bitcoin exchange. Bitcoin is a decentralized currency, why was one exchange allowed to gain so much influence over the exchange rate of the currency? Having a single point of failure is always a bad idea. Trusted members of the Bitcoin community should start developing more exchanges. More Bitcoin exchanges would mean more resiliency as it would be difficult for attackers to bring down or manipulate all of them simultaneously. Members of the Bitcoin network should put more work into developing easy methods for the average person to buy Bitcoin. In today's world people like the convenience of credit cards. Credit cards, due to the ability of a purchaser to perform a charge back and the inability to recover sold Bitcoin, don't work well for purchasing Bitcoin so some other convenient method must be created. The idea of Bitcoin Automated Teller Machines (ATM) is a good start, but they need to be located in high traffic areas such as grocery stores and gas stations. Until people can acquire Bitcoin as easily as they can buy things with their credit cards they won't adopt the currency.
Another feature that should be leveraged more is the mostly anonymous nature of the currency. I've seen a lot of comments from Bitcoin advocates trying to refute the claim that Bitcoin is most heavily used in the drug trade. Stop that. Embrace it! Expound the fact that Bitcoin is used by drug dealers and purchasers because transactions cannot easily be tied to physical individuals. As the world governments continue to wring more and more money out of their people those people are going to look for a place to hide their wealth. A currency that is outside of the state's control, can be used to store wealth in a mostly anonymous fashion, and allows individuals to perform transactions in a manner that that state can't record for taxing or prosecution purposes should be huge and will be necessary as the state's rate of expropriation increases. By denying that Bitcoin is used for "black" market purchases members of the Bitcoin community are downplaying its most valuable feature. Don't try to control its image, let its image develop freely.
As an agorist and a crypto-anarchist I want to see Bitcoin succeed. In order to succeed I believe the Bitcoin community needs to understand that Bitcoin is a revolutionary idea, will have growing pains, and must be rid of state dogmas against the "black" market. Trying to shoehorn it into mainstream monetary and political principles will relegate it to always being an interesting idea that never gets widely adopted.