Archive for the 'Humor' Category
I admit that the aftermath of this election has been fascinating. While the current occupant of the White House means almost nothing to me (it means a little bit to me simply because the occupant gives me a lot of blogging material) I do enjoy seeing people's reactions to the election.
The political left has been entertaining because they suddenly found a love of firearms, suppressing free speech, limiting the State, opposing war, and other political positions that they were entirely against during Obama's reign. Likewise, the political right has been busy throwing out their supposed principles by finding a love of executive orders and suppressing sedition.
But the most entertaining crowds, in my opinion, are self-proclaimed libertarians an anarchists. It has been fun watching Stefan Molyneux transform from a minor cult leader with anarchist leanings into a full blown statist with a huge chubby for keeping foreigners out of his beloved fatherland. Christopher Cantwell has gone from a loud and obnoxious but mostly harmless libertarian to total fascist with a fetish for helicopters. But nobody has provided me with more entertainment for my buck than Alex Jones. Alex Jones, a humble water filter salesman, was once obsessed with the idea that the governments of the world were creating a new world order that had the express purpose of enslaving all of humanity. Now? Now he's willing to lay down his life for his reptilian shape shifting overlords:
ALEX JONES (HOST): Trump is so fire-breathing, so energetic, so cunning, so real, and he's having results so amazing that it just makes me endeared to Trump – I'm ready to die for Trump, at this point. And I'm already ready to die for America, it's the same feeling I have for America, because he is America, you're America.
But it was all right, everything was all right, the struggle was finished. He had won the victory over himself. He loved Big Brother.
Donald Trump has nominated Neil Gorsuch for the Supreme Court. I have no opinion about this nomination one way or another but Gorsuch sounds Russian. You can even transcribe his name, Горсуч, into Cyrillic perfectly.
Interesting, don't you think, товарищ?
That moment when you realize Trump stole his campaign slogan from the main antagonist of Metal Gear Rising.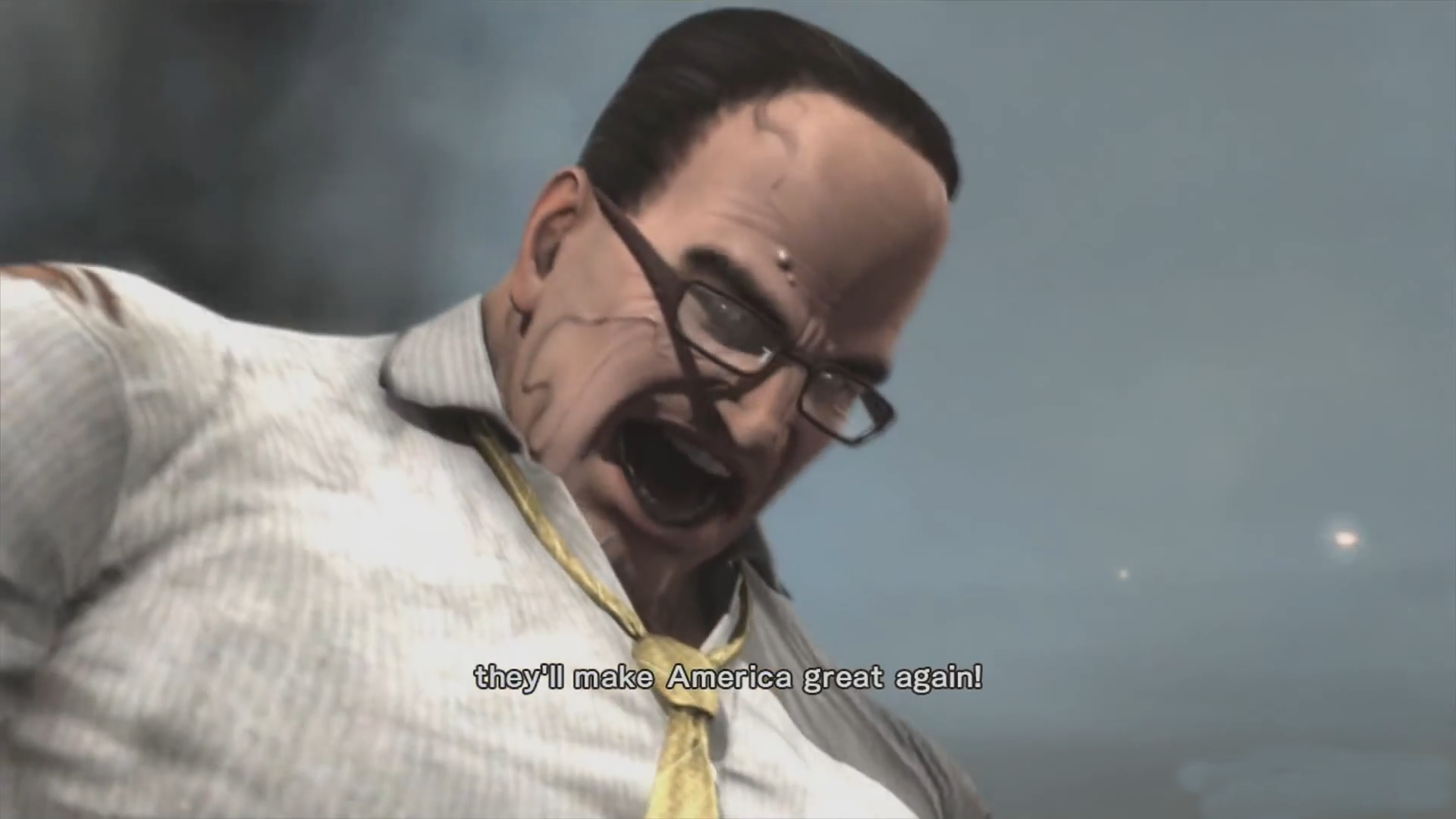 The main antagonist, Senator Armstrong, was as ridiculous as the rest of the game, which is why it was a ton of fun:
Amen!
"Hey, Chris, don't you carry a Glock?"
You shut your goddamn whore mouth!
Christmas is only a few days away. If you're still looking for the perfect gift for the libertarians in your life here's a good guide:
Once in a while karma or the universe or the gods or whatever see fit to teach us a lesson. Take Howard Brookins Jr., a petty elected official in Chicago. He has been waging a verbal war against Chicago's squirrel population:
Howard Brookins Jr. is the alderman for Chicago's 21st ward, and one thing he isn't a large fan of is the city's "urban squirrels." Brookins is known to speak out against the "aggresive" creatures for their destruction of the garbage bins around the city.
Tired on his blaspheming against their kind a self-radicalized extremist squirrel decided to take matters into his own hands:
Apparently the squirrels were not going to take that lying down, as WaPo reports.

While he was biking down the Cal-Sag Trail on the 13th of November, one squirrel ran out in front of him and wrapped itself in the spoke of Brookins bicycle. This caused Brookins to flip over his handlebars and land on his head, fracturing his skull, breaking his nose, and knocking out a few teeth.
Today's lesson is don't be a politician. Animals won't like you and they'll go so far as to sacrifice themselves to strike against you.
If you want a vision of the future, imagine a greeter at Costco saying "Welcome to Costco, I love you." — forever.
If you're looking for a good laugh go ahead and read this article. It's a list of "terrifying" things Americans carry on their person written by a Brit. Some of the things that terrify the author include knives and handguns.
It's amazing what some people will piss their pants over.