Archive for the 'Humor' Category
I can finally say that my proposal to help people cultivate their ego in order to spread freedom is backed up by SCIENCE!
A recent study showed that weak men are more likely to be socialist. Since the site requires you to register to read the entire article, I'll include this image of the physically printed story: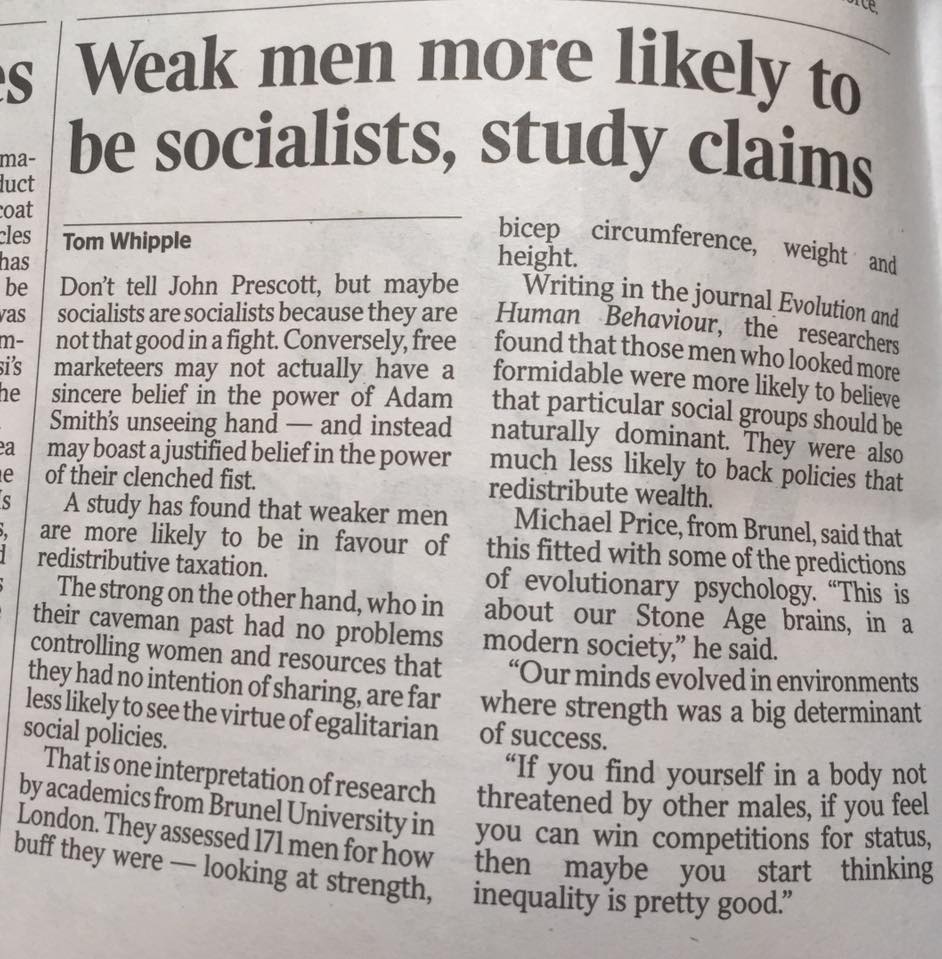 As you know, one of the activities I mentioned to help bolster an individual's ego is working out so this study is right up my alley. While I don't have access to the research paper and therefore I don't know what methodologies were used to determine how strong or socialist a subject was, how the subjects were chosen, or whether there was a control group, the study confirms my bias so it's SCIENCE and you can't argue against it!
Tai chi is usually a target of ridicule as far as self-defense is concerned. Most tai chi practitioners don't care because they're not practicing the art for self-defense but a few people truly believe that the art is an effective fighting art. And it turns out that it is! A practitioner of mixed martial arts in China took on a practitioner of tai chi. It seemed like an undisputed victory as the mixed martial arts practitioner took down the tai chi practitioner in about 10 seconds. However, deception is the ultimate art of war. While the tai chi practitioner appeared to go down, he was actually orchestrating a fantastic deception:
An article by Xinhua, the state news agency, called Mr. Xu a "crazy guy," saying that the fight had caused people to question whether Chinese martial arts were of any use and even to ask, "What exactly are traditional Chinese martial arts?"

The reaction has been so furious that Mr. Xu has gone into hiding.

"I've lost everything, my career and everything," he said in a message circulating online. "I think many people misunderstand me. I'm fighting fraudulence, but now I've become the target."
Instead of causing the mixed martial arts practitioner physical harm, the tai chi practitioner ruined his life and forced his opponent to go into hiding. That's true destructive power!
See? See?! Trump got elected and now grammar nazis around the world feel empowered to act!
A self-confessed "grammar vigilante" has been secretly correcting bad punctuation on street signs for more than a decade.

The anonymous crusader has even invented a special long-handled tool to help him carry out his work.

The tool, known as the 'Apostrophiser', helps him reach the highest signs.

Correcting rogue apostrophes is his speciality, and he uses stickers rather than paint to cover up the errors.
Election have consequences!
I admit that the aftermath of this election has been fascinating. While the current occupant of the White House means almost nothing to me (it means a little bit to me simply because the occupant gives me a lot of blogging material) I do enjoy seeing people's reactions to the election.
The political left has been entertaining because they suddenly found a love of firearms, suppressing free speech, limiting the State, opposing war, and other political positions that they were entirely against during Obama's reign. Likewise, the political right has been busy throwing out their supposed principles by finding a love of executive orders and suppressing sedition.
But the most entertaining crowds, in my opinion, are self-proclaimed libertarians an anarchists. It has been fun watching Stefan Molyneux transform from a minor cult leader with anarchist leanings into a full blown statist with a huge chubby for keeping foreigners out of his beloved fatherland. Christopher Cantwell has gone from a loud and obnoxious but mostly harmless libertarian to total fascist with a fetish for helicopters. But nobody has provided me with more entertainment for my buck than Alex Jones. Alex Jones, a humble water filter salesman, was once obsessed with the idea that the governments of the world were creating a new world order that had the express purpose of enslaving all of humanity. Now? Now he's willing to lay down his life for his reptilian shape shifting overlords:
ALEX JONES (HOST): Trump is so fire-breathing, so energetic, so cunning, so real, and he's having results so amazing that it just makes me endeared to Trump – I'm ready to die for Trump, at this point. And I'm already ready to die for America, it's the same feeling I have for America, because he is America, you're America.
But it was all right, everything was all right, the struggle was finished. He had won the victory over himself. He loved Big Brother.
Donald Trump has nominated Neil Gorsuch for the Supreme Court. I have no opinion about this nomination one way or another but Gorsuch sounds Russian. You can even transcribe his name, Горсуч, into Cyrillic perfectly.
Interesting, don't you think, товарищ?
That moment when you realize Trump stole his campaign slogan from the main antagonist of Metal Gear Rising.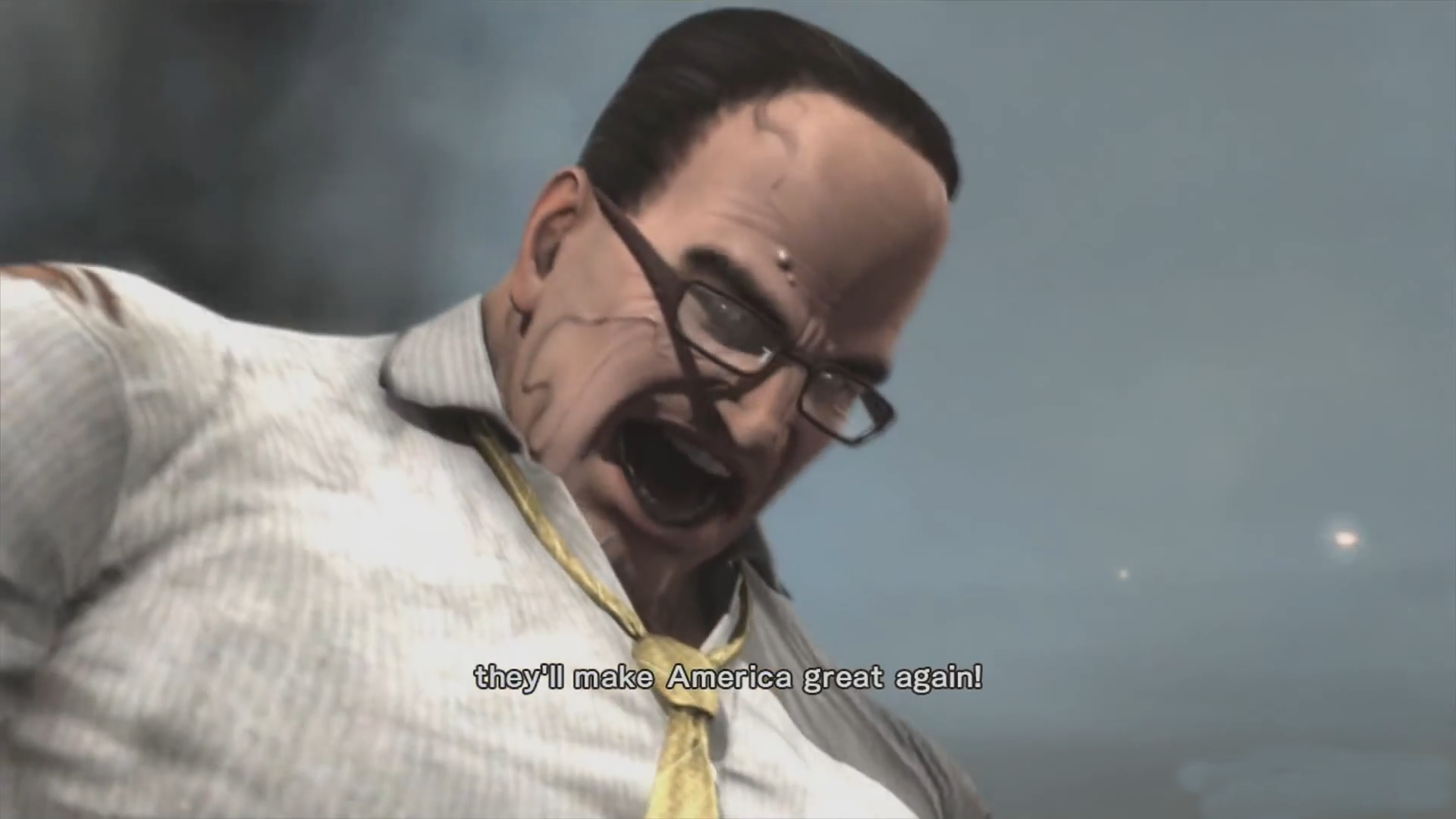 The main antagonist, Senator Armstrong, was as ridiculous as the rest of the game, which is why it was a ton of fun:
Amen!
"Hey, Chris, don't you carry a Glock?"
You shut your goddamn whore mouth!
Christmas is only a few days away. If you're still looking for the perfect gift for the libertarians in your life here's a good guide: