Archive for the 'Humor' Category
Read the following quote:
There is no liberal version of Breitbart, or The Drudge Report, or Fox News.
Then realized it came from Salon.
A lot of statists are unhappy about Colorado legalizing cannabis. In fact a couple of Republican attorneys general have gone so far as to call Colorado a drug cartel:
WASHINGTON — Oklahoma and Nebraska compared Colorado to a drug cartel on Wednesday and again urged the Supreme Court to let them sue their neighbor over its marijuana production and distribution system.

In sharply written arguments, the two states said Colorado "has created a massive criminal enterprise whose sole purpose is to authorize and facilitate the manufacture, distribution, sale and use of marijuana."

"The State of Colorado authorizes, oversees, protects and profits from a sprawling $100 million per-month marijuana growing, processing and retailing organization that exported thousands of pounds of marijuana to some 36 States in 2014," the states' new brief says.

"If this entity were based south of our border, the federal government would prosecute it as a drug cartel."
Does that mean the Bureau of Alcohol, Tobacco, Firearms, and Explosives (ATF) will now give guns to Colorado citizens?
I have an extremely dark sense of humor. That is why the first thing that crossed my mind when I read this:
Authorities discovered the body of a man attached underneath the ice Monday afternoon in a channel between Lake of the Isles and Lake Calhoun.
Was this:
When I admitted this on Facebook the magical suggestion algorithm gave me this:

A more perfect punchline could not be made by an army of the world's best comedians. I haven't laughed so hard for so long in ages.
File this story under totally justified actions:
A man in Madison, Wisconsin, was arrested after he threw a beer bottle at a bartender who changed music in the bar from Black Sabbath to a Christmas tune, according to police.
I really can't find fault with the man's actions.
I'm just fucking with you.
I'm sure a lot of you have seen that video of the bear busting up a kayak and getting pepper sprayed in the face. If you haven't, watch it before continuing on:
This video came to my attention because several gunnies were posting it and saying variations of, "This is why I carry a gun, not pepper spray." After watching the video though I can't help but side with the bear.
When the video starts the bear has ceased its initial assault on the lady's kayak. We can only assume the lady was yelling at the bear to stop and it complied. Anyways the bear is obviously coming over to say, "Hey, ma'am, sorry about that. I didn't know it was your kayak," only to get pepper sprayed in the face. Of course the bear backs away and is all like, "Whoa, crazy lady! What the fuck?" Then little miss hysterical tells the bear to, "Come here!" The bear, not being an idiot like the lady, keeps its distance. After thinking things over for a bit it seems to say, "You know what? Fuck you and fuck your kayak." The bear then goes back to beating on the kayak. When the lady screams, "Why are you breaking my kayak," I can only imagine the bear is responding with, "Because you pepper sprayed me in the goddamn face!"
I'm sorry, but the bear is totally in the right on this one. Admittedly it was doing something wrong but it stopped when told to only to be pepper sprayed for it. If anybody was the aggressor here it's the lady.
It's not often the actions of politicians surprise me but I was admittedly caught off-guard by this:
A Dakota County sheriff's deputy allegedly caught two Minnesota lawmakers "making out" in a parked car last week, according to law enforcement reports and court records, but the lawmakers say that accusation is "completely false" and a "lie."

State Rep. Tim Kelly, R-Red Wing, and Rep. Tara Mack, R-Apple Valley, were issued citations for causing a nuisance on Aug. 25.

The two, who are married to other people, were in Lebanon Hills Regional Park in Eagan when they were allegedly spotted by the officer 'making out' in a parked car about 4:30 p.m., according to documents. The officer's notes claim Mack was half undressed when he approached the vehicle.
I wasn't expecting to hear about a Republican representative being caught in a park screwing around with a woman. Around these parts they're usually caught in an airport bathroom screwing around with another man.
I love a good gag. You should think the prevalence of trolls on the Internet would result in an endless stream of hilarious gags but, sadly, it doesn't. It seems a large number of Internet trolls prefer to just be assholes. Thankfully there are still some old school trolls out there in meatspace performing some amazing pranks:
This guy is a legend. Just a God and hero among men. Mark Gubin is an artist and photographer in Milwaukee and decades ago he realized that his studio was along the flight path to the local airport. He had the brilliant idea to paint on the roof of his studio in giant letters "Welcome To Cleveland." Why? To mess with people mostly.

The sign is decades old, and is having new life today after being passed around Twitter. For years the sign has caused passengers on planes to freak out about going to the wrong place. There apparently was a Denver to Cleveland flight that stopped over in Milwaukee and the sign caused all sorts of confusion from passengers who thought the plane must have skipped the layover.
You, good sir, are a true hero.
A lot of libertarians who went through the Republican nomination process in a futile attempt to get Ron Paul nominated have been pointing out Rand's chances are basically nil. But the nomination process isn't the only thing that may stop Rand's campaign in its tracks. He has a wily competitor for president and that competitor has a secret weapon:
Vermin is also known for using his fairy dust to turn democratic presidential candidate Randall Terry gay back in 2012. Odds are good Rand is aware of this tactic, and that may be his motivation to keep Vermin away. In an interview this afternoon, Vermin acknowledged it's possible that Rand fears being turned gay, and would not comment on whether he has any fairy dust in his possession, calling that a "closely held secret." Rand better hope Vermin isn't holding any fairy dust. He can't afford to go gay, as he'll lose his base of conservative homophobic anti-gay marriage supporters and thereby any shot at winning the primary.
Being turned gay by Vermin Supreme (and let's be honest, almost any man would turn gay for Vermin Supreme) would not only end Rand's presidential run but his political career. There are two things that will ensure the Republican Party base won't support you: being gay or Muslim.
With that said it's nice to see Vermin Supreme entering the race once again. He's the only presidential candidate I'm willing to endorse. Although I'm wary of his dental reeducation camps his promises of zombie power and free ponies are needed if this nation is to rise to glory. I doubt any other candidate stands a chance against him and am willing to call it now: Vermin Supreme will be the next president of the United States (so long as Emperor Norton allows it, of course).
I'm interested in getting a Beretta M9. Specially I'm interested in the new M9A3. As I was searching for information on if or when the pistol would be made available for sale to non-military personnel I came across what may be the most professional way to tell somebody to shut up and fuck off that I've ever witnessed: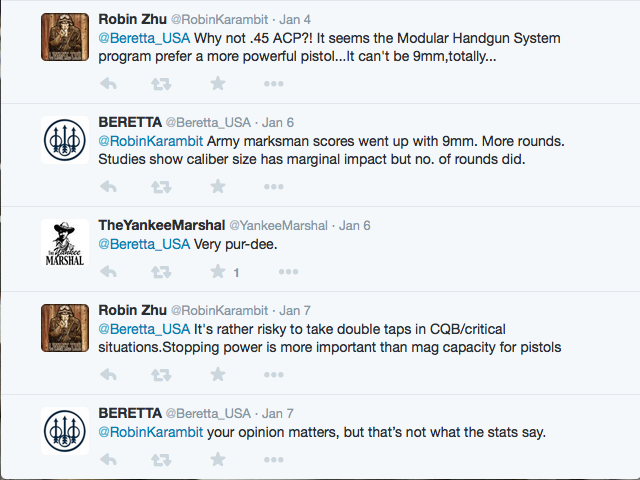 Zing! As I've explained before, I carry a .45. However I don't do so because of some delusion that the .45 is somehow superior to 9mm. I just happen to like .45 and realize that I will almost certainly never be in a situation where what determines whether or not I survive is the caliber of my handgun.