Archive for the 'Side Notes' Category
Our future, ladies and gentlemen, is looking bleak. It's not simply because of rampant statism but also because of rampant stupidity.
I make plenty of grammatical mistakes on this site. When somebody is gracious enough to point them out to me I thanks them and correct the mistake(s) they alerted me to. Apparently this isn't the case with most people:
Scientists have found that people who constantly get bothered by grammatical errors online have "less agreeable" personalities than those who just let them slide.

And those friends who are super-sensitive to typos on your Facebook page? Psychological testing reveals they're generally less open, and are also more likely to be judging you for your mistakes than everyone else. In other words, they're exactly who you thought they were. That sounds pretty obvious, but this is actually the first time researchers have been able to show that a person's personality traits can actually determine how they respond to typos and grammatical errors, and it could teach us a lot about how people communicate (or miscommunicate) online.
As somebody who prides himself on constantly improving I appreciate when people point out my mistakes so that I can correct them. It seems most people don't have an interest in improving their grammar and instead get angry that somebody would dare point out their error.
Whether you're celebrating Thanksgiving or pouring out libations for the Native Indians killed by the European settlers, have a good day.
I decided to take the day off and head to the range. Last night consisted of loading ammo for the trip instead of writing posts.
What can I say? You get what you pay for.
One thing I don't talk about much here is working out. Part of the reason behind this is because I only started regularly working out at the beginning of this year and don't feel as though I have enough knowledge to say a whole lot on the subject. But at the beginning of this year I decided it was time to take some action of the healthcare front.
I had two primary motivations when I started my training regimen. My first motivation was enjoying the benefits of being physically fit. People who are physically fit can do more for longer and are harder to kill. My second motivation was to further divorce myself from the State. As an agorist I'm used to discussing ideas behind divorcing one's self from the State. Most of these ideas involve avoiding paying taxes, buying permits, and otherwise providing money to the State. But there are other ways you can increase your independence from the State. Healthcare in this country has become almost inseparable from the State. Being healthy makes you less reliant on the healthcare system and therefore increases your independence from the State. As a slight aside, I did have an additional minor motivation, which was to simply not become the stereotypical fat white guy at the gun range.
At the beginning of the year my workout regimen wasn't set in stone. I played with things until I found what I liked. One of the things I played with were kettlebells. I don't like going to gyms so working out at home is a far more preferable option. Kettlebells are nice in that they're relatively affordable and you can perform a full workout with them in even a small room. They're also good for building both strength and stamina since many of the lifts are explosive in nature, which puts stress both on your muscles and your cardiovascular system. So I started with a 25 pound kettlebell (upper body strength has never been a strong suit of mine and was the primary limitation to the weight I could workout with) and slowly moved my way up with the goal of using a 50 pound kettlebell by the end of the year.
At the beginning of June my workout regimen started to stabalize. I alternated days between body weight exercises and the Simple and Sinister kettlebell program, which is built around swings and Turkish get ups.
Although a shoulder injury knocked my progress back I'm happy to say that last night I finally achieved the goal I set for myself at the beginning of the year: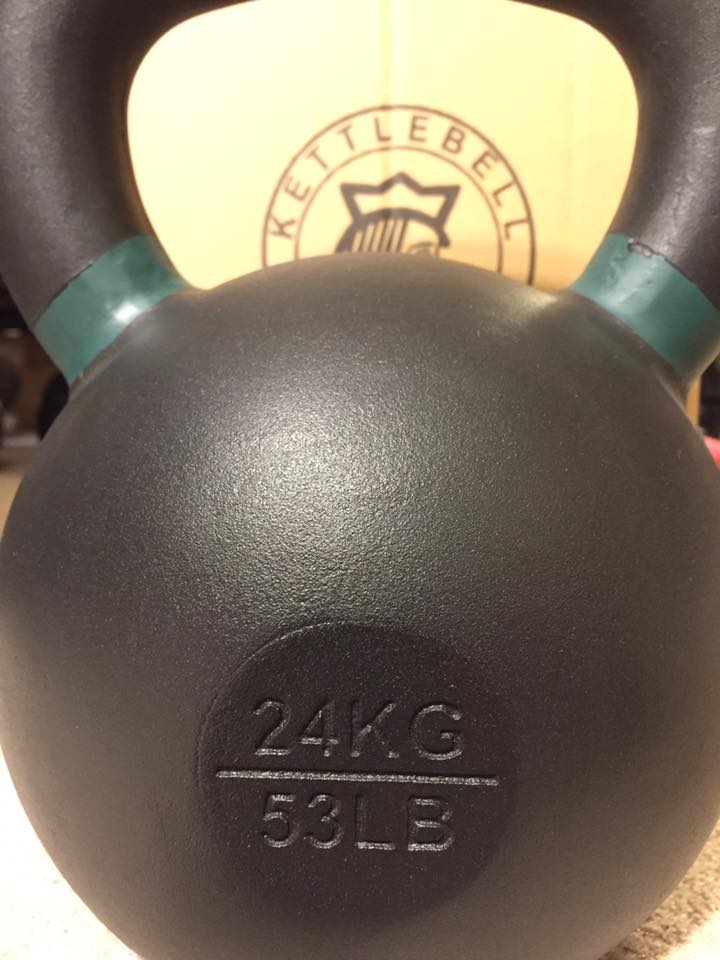 Until now I've been using enamel coated CAP kettlebells. They've served their purpose and I feel that they offer good bang for your buck but the handles are just a hair smaller than I'd like and the enamel coating is pretty brittle. This time around I decided to spend a bit more and was happy to receive quite a bit more.
My new kettlebell is a powder coated piece of iron made by Kettlebell Kings. So far I'm impressed. The powder coating is grippier than CAP's enamel coating, the handle is wide enough where I can get the entirety of both of my hands in it, and there are no rough edges inside of the handle (the CAP kettlebells sometimes have a seem inside the handle but it's tolerable because the enamel coating smooths it out mostly). I did my first workout with it last night and really enjoyed it.
However, I don't think the UPS driver enjoyed it. I've unintentionally been a dick to him because I've ordered all of my kettlebells online (Amazon Prime is wonderfully abusable for this) and he's had to deliver ever increasingly heavy boxes to my apartment and I'm not planning on letting up on him anytime soon.
I was out late at the bar with my anarchist friends last night avoiding political nonsense. Needless to say, I didn't get any posts written.
However, I will say one thing about last night's election. You can't blame me, I didn't vote.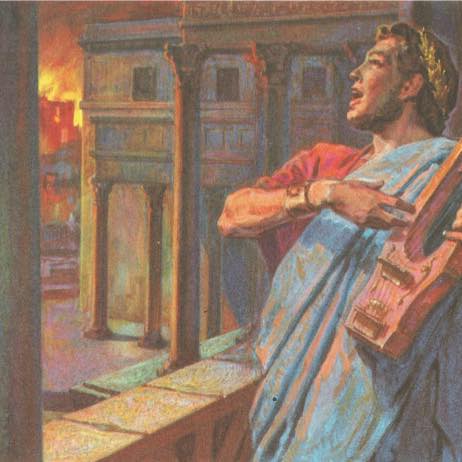 I spent last night loading ammunition and prepping for an early morning range drip (seriously, nobody is at the range at 8:00 in the morning, try it) instead of writing posts.
For those of your planning to attend AgoraFest this year I am going to host an unofficial shooting event on Friday.
There's a public range near the new AgoraFest venue. From what I can gather from the Wisconsin Department of Natural Resources' website, a single news article, and satellite images courtesy of Google Maps the range exists and the facilities are decent. I will check the range out on Thursday to verify it can be used and give the go/no-go notice at the planned shooters meeting after lunch on Friday.
If you're interested in attending the event the details are available at the link.
I used the long to finish up Deus Ex: Mankind Divided. If you enjoyed the gameplay of Human Revolution you'll enjoy the gameplay in Mankind Divided as it's basically the last game plus more. In that regard I really enjoyed playing through Mankind Divided. However, the ending can best be summed up by Pickles:
We got you your favorite thing, disappointment!
There are going to be some minor spoilers here so if you haven't finished the game you should stop reading unless you want an idea about what happens. The end of the gaming involves you saving some people and fighting an end boss. What makes the ending disappointing is that it leaves a lot of story threads unresolved and it feels far less epic in scale than the last game. When I finished the final boss I thought I was maybe at the halfway point until a notification popped up alerting me than I had unlocked New Game+ mode.
If you've played a Deus Ex game you know that it delves into some serious conspiracy theory shit. The Illuminati are trying to control humanity and I expected this would be the game where Majestic 12 would split off from the Illuminati. Instead the Illuminati only really appears in a handful of cutscenes and the plot is rather mundane. They want to turn the world against augmented humans and… that's about it. To that end they've invented a new poison, which is talked up into being much more interesting than it turns out to be, and send a big augmented dude with a bunch of bombs to perform acts of terror. The big guy is the end boss even though he feels like a midway boss if you're comparing him to most Deux Ex games. Likewise, after fighting him you expect the actual Illuminati plot to be unveiled but instead the game just kind of ends.
So Mankind Divided is a really fun game that suffers from a very lackluster plot and an ending that leaves a lot unresolved. At $60 I don't feel that the game was worth it, especially since Square Enix forced the Eidos crew to shoehorn a microtransaction system into the game (fortunately that doesn't ruin the balance of the game, you can get through the entire game easily without having to buy anything from the online store). If you're thinking about picking this game up my advice is to either wait for it to drop in price (I'd say it's worth $30) or at least wait for the Director's Cut or whatever they're going to call the edition that includes everything you'll end up paying extra for in the form of paid downloadable content (which seems to be stuff that was purposely removed from the main game just so it could be sold for more money).
The new Deus Ex game came out and I decided to play that last night instead of blogging.
I'm guessing you're curious how the game is. So far the gameplay has been Deus Ex: Human Revolution plus more, which is a winning formula in my book. I haven't gotten very far in the game yet so I can't tell you how the story is but so far it's been decent.