Voluntary association is a touchy subject here in the United States. Most people seem to believe that an individual has the right to associate with or disassociate from whoever they please… until they start a business. Once they start a business they can only disassociate from approved individuals. What makes this phenomenon more fascinating is how a lot of people will cheer such restriction when the people being disassociated with subscribe to ideologies they hate and then decry the very same restrictions when the people being disassociated with subscribe to ideologies they like.
When a Christian bakers wishes to disassociate with a gay couple who want to buy a wedding cake a lot of people scream bloody murder. But when a national socialist is booted from a gym the very same people cheer:
An Alexandria gym terminated the membership of white nationalist Richard Spencer last week after he was confronted by a Georgetown University professor who recognized him and lambasted him over his alt-right views.
Is it OK to disassociate with a Nazi? I believe it is. The only way you can truly be considered the owner of yourself is if you are allowed to choose who you associate and disassociate with. If you, for example, want to disassociate with somebody but a government steps in and says you have to associate with that individual can you really say that you own yourself or are you the property of the government?
A judge in Georgia disagreed with a jury's verdict and decided to punish the suspect in spite of the fact that he was found not guilty:
A black man who was found not guilty of armed robbery will still serve up to seven years behind bars after a judge ruled he had breached the rules of his probation sentence for another crime.

[…]

The 24-year-old was already was serving a five year probation term (a court order served outside prison through fines and community service) for his first ever offence, breaking and entering an apartment to steal a television worth $120 (£92) in 2012.

[…]

The following February, a judge decided it was likely he did commit the robbery and as a result Chatman was re-sentenced for the original crime of stealing a TV and ordered to serve 10-years behind bars, back dated to the day of the crime.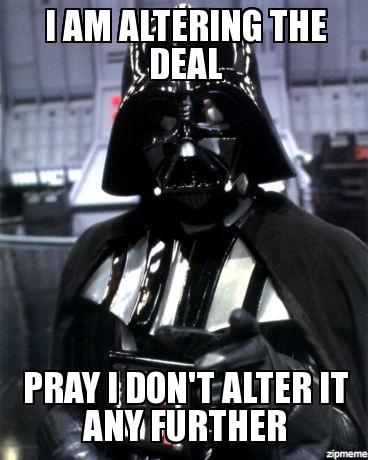 This is a major problem with a monopolistic justice system. The judge is obviously untrustworthy. He decided that he didn't like the verdict of a jury so he decided to renege on a previous deal made between the courts and the suspect. But even with this information in hand it's not possible for people in the judge's jurisdiction to choose to not do business with him. The best they can hope for is that there are multiple judges in that jurisdiction so they have a chance of getting one who is more upstanding.
I feel like listening to some Middle Eastern metal today so I've selected my favorite song from Myrath's latest album:
Who isn't the United States at war with? It's a difficult question to answer because the list of nations continues to grow. Although most of its actions have been focused on the Middle East, the United States is starting to expand further into Africa:
Six years ago, a deputy commanding general for U.S. Army Special Operations Command gave a conservative estimate of 116 missions being carried out at any one time by Navy SEALs, Army Green Berets, and other special operations forces across the globe.

Today, according to U.S. military documents obtained by VICE News, special operators are carrying out nearly 100 missions at any given time — in Africa alone. It's the latest sign of the military's quiet but ever-expanding presence on the continent, one that represents the most dramatic growth in the deployment of America's elite troops to any region of the globe.

In 2006, just 1 percent of all U.S. commandos deployed overseas were in Africa. In 2010, it was 3 percent. By 2016, that number had jumped to more than 17 percent. In fact, according to data supplied by U.S. Special Operations Command, there are now more special operations personnel devoted to Africa than anywhere except the Middle East — 1,700 people spread out across 20 countries dedicated to assisting the U.S. military's African partners in their fight against terrorism and extremism.
Contrary to what many people believe, Trump won't be the downfall of the United States. Russia won't be either. What will ultimate kill the United States is its obsession with policing the world.
To quote the movie 1984, "The war is not meant to be won. It is meant to be continuous. The essential act of modern warfare is the destruction of the produce of human labour. A hierarchical society is only possible on the basis of poverty and ignorance." While the United States' purpose in war may not be to directly destroy the production of human labor, it's an unavoidable side effect. Every building that is destroyed will have to be rebuilt. Every automobile that is destroyed will have to be replaced. War destroys the product of human labor so that it must be produced again.
And what does war return? Nothing. Some will claim that war stimulates the economy because the production of war materials and replacement of destroyed materials creates jobs. However, as Bastiat pointed out, we're not seeing the unseen. The labor and resources that are involved in the war effort could have been used for productive things instead. Steel for tanks could have been used to build skyscrapers, automobiles, computers, or any number of wealth generating tools. Likewise, the labor could have been put towards building those skyscrapers, automobiles, computers, etc. Instead those resources are put into wealth destroying devices that must be replaced every time they are destroyed by an enemy.
So long as the United States continues to see itself as the police of the world it will continue to involve itself in more wars, which will just accelerate its demise.
Minnesota may be second only to California when it comes to socialism in the United States. One of the tenants of socialism is government providing goods and services to the people. In order to do this the government must have wealth. Since government produce nothing of value it cannot raise the wealth it needs through voluntary transactions and therefore relies entirely on extortion. This extortion is commonly perpetrated by the police. Traffic citations, parking citations, and other petty forms of extortion are examples of this. But every office knows that there are bigger money makers. In fact, petty forms of extortion such as traffic and parking citations are often used as justifications for initiating an interaction that may ultimately produce a more lucrative violation.
One of the roadblocks between an officer pulling over a motorist for, say, speeding and searching their vehicle for lucrative contraband is the requirement that a warrant be acquired before a search of a vehicle can be performed. In its lust for extorted wealth Minnesota is streamlining that pesky warrant process:
The road to a search warrant has sometimes been a long and winding one for Minnesota law enforcement officers, especially those working a late-night shift. But now there's an express lane known as the eSearch Warrant, that public safety officials say will make a big difference in DWI prosecutions.

A legal process that used to be done on paper and required a face-to-face meeting between an officer and a judge is now being done electronically. The Minnesota Bureau of Criminal Apprehension said Monday the transition to sSearch Warrants started in October and is now finished statewide.

"Before eSearch Warrants, a peace officer would write a search warrant application and then drive it to the judge for review," said BCA Superintendent Drew Evans.
Of course it was justified using drunk drivers. Everybody hates drunk drivers so they're more than happy to roll over whenever the police expand their power for the purpose of catching drunk drivers. I very much doubt that this streamlined process was aimed at nabbing drunk drivers though. The lower barrier to entry is likely meant to be used to allow officers to perform more vehicle searches in the hopes of finding more drugs, weapons, and other lucrative contraband.
Unfortunately, many people will be fine with this because they don't realize that every single expansion of government power, no matter how trivial, comes at the expense of the rights and privileges of the people.
Tai chi is usually a target of ridicule as far as self-defense is concerned. Most tai chi practitioners don't care because they're not practicing the art for self-defense but a few people truly believe that the art is an effective fighting art. And it turns out that it is! A practitioner of mixed martial arts in China took on a practitioner of tai chi. It seemed like an undisputed victory as the mixed martial arts practitioner took down the tai chi practitioner in about 10 seconds. However, deception is the ultimate art of war. While the tai chi practitioner appeared to go down, he was actually orchestrating a fantastic deception:
An article by Xinhua, the state news agency, called Mr. Xu a "crazy guy," saying that the fight had caused people to question whether Chinese martial arts were of any use and even to ask, "What exactly are traditional Chinese martial arts?"

The reaction has been so furious that Mr. Xu has gone into hiding.

"I've lost everything, my career and everything," he said in a message circulating online. "I think many people misunderstand me. I'm fighting fraudulence, but now I've become the target."
Instead of causing the mixed martial arts practitioner physical harm, the tai chi practitioner ruined his life and forced his opponent to go into hiding. That's true destructive power!
A lot of people, socialists especially, like to criticize market actors for prioritizing short term profit gains over anything else. I actually agree with this sentiment. However, unlike most critics, I don't believe that the solution is more government because I believe the government is the cause.
Let's say your company spent 10 years of research and development time to create a new product. You're happy as can be with it and all signs point to it being a tremendous success. But just as you're about to release the product the government creates a regulation that makes the product as it currently exists illegal. You're now faced with a decision, do you redesign the product to make it compliant with the new regulation in the hopes the regulatory environment won't change again or do you abandon the product?
This problem is a tremendous burden, especially in countries like the United States where the party in power can change every handful of years. One moment the party that favors your product is in power and things look good but then the next year the other party comes to power and things look grim.
I'm sure you can see how this kind of environment favors immediate profits over longterm profits. If you cannot predict what the regulatory environment will be four years from now you will have a hard time making plans that extend longer than four years. So you'll probably seek as much profit as you can within those four years just in case your product line becomes illegal after that.
Anybody who wants companies to stop prioritizing short term profits at all costs should be demanding that the government step aside and allow the market to be free.
Let's say the government has offered you half of a duopoly on a product that is otherwise illegal. However, the government has also placed a bunch of ridiculous restrictions on that product that will unnecessarily raise your production costs. Do you take the government up on its offer? If you're smart, you don't:
Minnesota's two licensed medical marijuana manufacturers have lost a combined $11 million in just two years of sales, according to financial documents obtained by The Associated Press, continuing losses that hint at systemic problems with the state's tightly regulated program despite a recent expansion that allowed thousands more patients to buy the medication.

Minnesota Medical Solutions posted a $1.2 million loss in 2016, a year after losing more than $3 million. But LeafLine Labs' losses worsened: The company said it lost $4.7 million last year, after losing $2.2 million loss in 2015.
When the medical cannabis bill was passed in Minnesota it included a mind-boggling number of restrictions. For example, medical cannabis cannot contain any leftover plant material. Why? Who knows. What we do know is that the law made it so two companies with a duopoly can't make a profit on a product that teenagers in every high school in the country manage profit off of.
Unfortunately, this will likely be the status quo in this state for many years. The problem with medical cannabis laws is that once they're passed it makes passing full decriminalization more difficult. One of the best arguments for cannabis legalization is its medical benefits. When medical cannabis laws are passed that argument is no longer available to advocates of full decriminalization. This is another example of the good being the enemy of the better. Medical cannabis laws may appear to be better than full criminalization but they're actually a detriment to full decriminalization.
I've been keeping an eye out for a nicer place to live. For me, a nicer place to live is a place where taxes are low (preferably nonexistent) and the government is ineffective (or, again, preferably nonexistent). I may have found such a place:
The story examines repeated voter rejection of tax increases in Oregon's timber counties—Douglas, Curry and Josephine—and the resulting cuts in basic services.

Douglas County is closing its libraries. Josephine County has a catch-and-release policy for nonviolent criminals because voters defunded the jail. Curry County has no sheriff's office staffing after midnight, and is running out of money to conduct elections. The Times reports: "Even conducting an election this fall could be beyond reach, said Reneé Kolen, the Curry County clerk, who has one full-time staff member left in her elections division, and is facing another possible 30 percent cut in funding this year in her budget."
The police have to catch and release nonviolent criminals? The horror! And democracy may not be able to continue because there isn't a money to have a poll to ask residents how other people's money should be spent? That's a shame!
The people of Douglas County appear to be some of the few people in this country who have their heads screwed on right. If everybody had the same attitude this would probably be a pretty nice country.
Reason posted an article claiming that research shows that you can't even pay somebody to read information that contradicts their beliefs. However, if you read the about the methodology you learn that the researchers didn't offer to pay people to read information that contradicted their beliefs:
The study gave participants two options: they could read an article about same-sex marriage that matched their own perspective, or they could read an article about same-sex marriage that contradicted their views on the subject. They were told that if they selected the article with which they disagreed, they would be entered in a drawing to win $10. But if they selected the more comforting, self-affirming article, they would only stand to win $7.
Being entered into a lottery isn't payment, it's a chance at payment.
I bring this article up to illustrate how poor research can quickly lead to stupid conclusions and headlines. Initially reading the research might lead one to believe that it gives evidence to the possibility that some people won't read contradicting information even if there is a reward. But when you stop to think about the methodology used you quickly realize that the research was inadequate at addressing incentive. Some people might not be willing to read contradicting information for a chance to be entered in a lottery with a slightly better payoff but they might be willing to do so for straight up cash. $10 might not convince some people to read contradicting information but $20 or $30 might.
I also bring this article up because it shows that neocons and neoliberals aren't the only people who allow themselves to use poor research to reach a desired conclusion. Libertarians can and do fall into that trap as well.