Archive for the 'Not So Crazy Libertarian Ideals' tag
Yesterday I wrote a post about some neoliberals threatening to homeschool their children. Homeschooling isn't the only anti-state idea neoliberals are getting though. Some are now claiming that they won't pay their taxes because Trump was elected president:
Andrew Newman always pays his taxes, even if he hates what the government is doing with them. But not this year. For him, Donald Trump is the dealbreaker. He'll pay his city and state taxes but will refuse to pay federal income tax as a cry of civil disobedience against the president and his new administration.

Newman is not alone. A nascent movement has been detected to revive the popularity of tax resistance – last seen en masse in America during the Vietnam war but which has been, sporadically, a tradition in the US and beyond going back many centuries.
Bombing children in the Middle East, having the highest prison population in the world, widespread unwarranted surveillance, civil forfeiture, and a plethora of other horrible government programs weren't enough to convince them to not pay their taxes. But Trump getting elected? That warrants such action.
This is me not really giving a shit about their tax protest.
Don't get me wrong, I appreciate that they're finally understanding why us libertarians are so opposed to government power. But their protests ring a bit hallow when it's obvious that the only thing they're upset about is who is in power, not what people in that position of power has been doing. I'm sure these same people would gladly pay their taxes if Hillary was in power regardless of what horrible shit she was doing because the only thing that matters to them is the party, not the actions.
While I do appreciate their sentiment I must also admit that I look forward to seeing their reaction once they realize that taxation, regardless of what they have previous claimed, is backed by the barrel of a gun.
The aftermath of this election is the gift that keeps on giving. After eight years of loving Big Brother and mocking anti-state ideas, neoliberals are suddenly espousing anti-state ideas. The appointment of Betsy DeVos has a lot of neoliberals upset because they think she is going to destroy the public education system (I wish that were true but it's not). Some of them are so upset that they're considering a formerly crazy libertarian idea:
In protest of school choice advocate Betsy DeVos becoming the next education secretary, some liberals threatened to homeschool their children. Lost on them, apparently, is the irony of that threat.
As I mentioned, the Education Secretary doesn't matter if you don't put your children into a government indoctrination center. Apparently this point has sunk in with a few neoliberals.
Granted, I know these people will have a change of heart when their team is in power again but it's nice to see that for at least four years some neoliberals will be open to a few libertarian ideas. Perhaps one or two of them will take the ideas to heart and permanently overcome their statist tendencies.
I've seen several people celebrating the antics of anti-fascists. And I get it. I also hate national socialists. But in most cases the anti-fascists being celebrated are international socialists.
The reason I'm not celebrating their antics is because I don't see any meaningful difference between national and international socialists. If you look at their history, both groups have a tendency to fill mass graves. Their criteria on who to kill may differ but in the end they both have lists of enemies that they purge when the opportunity presents itself.
So, no, I'm not going to cheer on a bunch of international socialists just because they're fighting national socialists. Frankly, I want the two camps to wipe each other out.
Whenever the State involves itself in an issue there are unintended consequences (okay, the consequences could be intended but I'll give the politicians the benefit of the doubt in this case). When the State involved itself in the alcohol market by prohibiting its manufacture, sale, and consumption criminal organizations arose to provide the prohibited good. Today we're seeing the same thing happen again as the State has involved itself in the markets of several other substances. When the State further involved itself in the healthcare market health insurance premiums skyrocketed.
What happens when the State involves itself in immigration? Unintended consequences:
For four months every year he employs almost exclusively Hispanic male workers to pick the harvest. This year he had 64 men out in the fields.

Then HB56 came into effect, the new law that makes it a crime not to carry valid immigration documents and forces the police to check on anyone they suspect may be in the country illegally.

The provisions – the toughest of any state in America – were enforced on 28 September. By the next day Cash's workforce had dwindled to 11.

Today there is no-one left. The fields around his colonial-style farmhouse on top of a mountain are empty of pickers and the tomato plants are withering on the vine as far as the eye can see. The sweet, slightly acrid smell of rotting tomato flesh hangs in the air.

On Friday, the 11th circuit appeals court in Atlanta blocked the first of those measures, but allowed the state to continue detaining suspected illegal migrants. So it is unlikely that Cash's workers will dare to reappear.

The blow to Cash can be measured in those $100,000 – money he says he had wanted to put aside as insurance against a poor crop in future years. But it can also be measured in other ways.
A great deal of manual labor in this country is performed by "illegal" immigrants. Why? Because they're willing to do the work for the pay being offered, unlike most Americans. When those immigrants aren't available to do the work the work often ends up not being done, which costs producers money and consumers available goods.
Immigration is a hotly debated topic amongst libertarians. One camp believes that the State has the authority to decide who can and cannot cross the arbitrary lines it has created. The other camp, i.e. the correct libertarians, don't recognize the State has a legitimate entity and believe that the only person who can decide who can and cannot enter a property is the owner. If a farmer wants to allowed laborers from Mexico to enter their property then those Mexicans can enter the property. Property rights cease to exist the second the State is allowed to dictate who can and cannot enter the farmer's property.
Last year Robert Higgs wrote an excellent article about how taxes are slavery. This sparked my interest in researching the practice of slaver renting. Needless to say, the analogy between slave renting and taxation dead on:
In some instances, masters allowed slaves to hire themselves out; this practice permitted some slaves to save enough money to purchase their freedom. Slave-hiring in Charleston became so complex that many slaves wore a badge around their necks with a number indicating their particular skill or craft. The Charleston city council taxed those badges, masters still received money for renting out their slaves, renters had laborers or skilled slaves for extended periods of time, and some slaves earned money in this elaborate process.

[…]

For masters, hiring or renting out their slaves brought additional income; for slaves with skills, especially those who rented themselves out, the process could lead to freedom. Even when masters took a good portion of their money, good carpenters, brick masons, and blacksmiths could, over a period of time, earn enough to buy their freedom.
Last year Americans were working until April 24th for Uncle Sam. It's only after that point that they were allowed to make money for themselves.
Every one of us, except people who work purely in the agorist economy, has to buy our temporary freedom from Uncle Sam. If you are an employee then your employer buys your freedom by renting you out. Being rented out by your employer takes the form of automatically withheld taxes from your paycheck. If you are a contractor then you buy your own temporary freedom by paying estimated owed taxes every quarter. Slave renting hasn't gone away, the criteria have just changed so that everybody is a slave of Uncle Sam.
But what happens if you fail to buy your temporary freedom? If you are an employee Uncle Sam may start by garnishing your wages, which is a fancy phrase for stealing your money. Uncle Sam might also opt to steal your assets, sell them off, and put the profits towards your temporary freedom. If Uncle Sam believes you are truly unruly he might sent his slave patrol to kidnap you and make you work in one of his forced labor camps prisons. In the absolute worst case his slave patrol might just murder you outright.
If you believe that you're anything other than property in the eyes of the State then you are sorely mistaken. You are a slave. You just have the option of renting yourself out to raise money to temporarily buy your freedom.
Betsy DeVos was confirmed as the Education Secretary yesterday:
WASHINGTON — The Senate confirmed Betsy DeVos on Tuesday as education secretary, approving the embattled nominee only with the help of a historic tiebreaking vote from Vice President Mike Pence.

The 51-to-50 vote elevates Ms. DeVos — a wealthy donor from Michigan who has devoted much of her life to expanding educational choice through charter schools and vouchers, but has limited experience with the public school system — to be steward of the nation's schools.
The only thing newsworthy about this is the fact that it was getting so much goddamn media coverage than even I heard about it. Why did the nomination of a secretary to a government department get so much media coverage? I have no idea. But I hope other nominations don't have the same coverage because there are far more interesting things going on in the world.
Still, I'm entertained by the aftermath. People genuinely cared about this nomination. Those who didn't support DeVos are genuinely upset over her confirmation.
Here's the thing, the Education Secretary doesn't matter if you don't put your children into a government indoctrination center. A lot of people figured this out some time ago. Instead of letting the government brainwash their children under the guise of providing an education they opted to enroll their children into a private institution, homeschool their children, unschool their children, or chose some other means of providing their children with an actual education.
There's a valuable lesson in DeVos' nomination for those who are upset that she's not running the Department of Education. If you place your children into a government indoctrination center they're going to be indoctrinated by whoever is currently controlling the government. If your political opposition controls the government then they will be indoctrinating your children.
If nothing else, Trump's election has taught a lot of people, albeit only temporarily, about the dangers of a power government. The responses to this newfound knowledge have been all over the board. On the minor end a lot of people have stated that Trump isn't their president. I welcome them to the club of those of us who don't have presidents. But the minor end of the scale is dull. On the more fun end of the scale a lot of people are talking about secession. Surprisingly enough, the state talking most loudly about secession is California:
A proposal for California to secede from the United States was submitted to the Secretary of State's Office Thursday.

The proposed "Calexit" initiative – its name borrowed from the UK's "Brexit" departure from the EU – would ask voters to repeal part of the state constitution that declares California an inseparable part of the U.S.

[…]

Secretary of State Alex Padilla said the group behind the proposal, Yes California Independence Campaign, was cleared to begin attempting to collect nearly 600,000 voter signatures needed to place the plan on the ballot.

"In our view, the United States of America represents so many things that conflict with Californian values, and our continued statehood means California will continue subsidizing the other states to our own detriment, and to the detriment of our children," the Yes campaign's website says.
Over a century and a half ago the states learned what happens when you try to secede from a powerful federal government. But what happened so long ago shouldn't dissuade people from trying again today. Secession is something worth fighting for. It's the beginning of something that could be beautiful. First states could secede from the United States. Then counties could secede from the states. Then townships could secede from the counties. And finally, individuals could secede from the townships. Going from one federal state with 50 vassal states, which is all the 50 states really are at this point, to 320 million separate states would be wonderful.
Although California is not a place I'd want to live, if it starts the chain reaction of secession I will forever give it its due credit.
Neoconservatives, the alt-right, and even a lot of libertarians are unable to contain their enthusiasm for Trump's order to build a wall between Mexico and the United States. Why would these supposedly fiscally conservative individuals cheer on the construction of a multi-billion dollar wall that won't accomplish anything? Because they are under the mistaken belief that a mass migration of immigrants into the United States will cause a loss of individual liberty. Like the boogeyman, this is an entirely imaginary fear as Dr. Robert Higgs so eloquently explained on Facebook: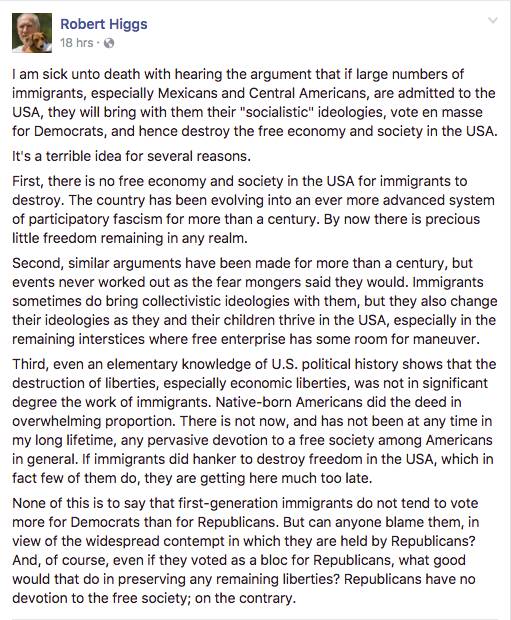 Remember the good old days when neocons were whispering about armed revolution and neoliberals criticized them for it? Remember the standoff at the Bundy Ranch and the Malheur National Wildlife Refuge occupation where neocons traveled to help with the armed standoff? Remember the neoliberals calling those neocons traitors and wanted the feds to send in the troops to take them all out?
Now the neoliberals are whispering about armed revolution and neocons are criticizing them for it. Last year Time was already trying to start a tax protests. Within the last week we've had a Nazi get punched, Madonna talk about blowing up the White House, and a Dallas school teacher shooting an image of Trump with a squirt gun while yelling "Die!" In each one of these cases neoliberals justified these acts and even called for more while neocons labeled the perpetrators traitors and want the feds to throw the book at them.
Those two groups were made for each other. I just wish that they would hurry up and fuck and get it over with.
What's worse than mob rule? Not a whole lot, which is why I'm pleased to see that the United States has been downgraded from a full democracy to a flawed one:
While U.S. citizens could once claim to be part of the 9% of people in the world governed by a "full democracy," they are now part of the near 45% who live in a "flawed democracy."

That's according to the Economist Intelligence Unit, which downgraded the U.S. in their 2016 Democracy Index published Wednesday. The move puts the U.S. in the same category as Poland, Mongolia, and Italy.
Democracy is touted as an amazing governmental system where the people have a say in how they're governed. In reality it's nothing more than mob rule. The plurality of voters get to inflict their will on everybody else. Worse yet, when things inevitably turn to shit the people tend to turn on each other, as we're seeing here in the United States, instead of the politicians that are doing the actual damage.
Between democracy and monarchy there isn't a terrible amount of difference. Under both systems the people who compose the State are able to do whatever they please and the people can either take it or revolt. The upside of a monarchy is at least when the people revolt they tend to go after the monarch instead of each other.