Archive for the 'Not So Crazy Libertarian Ideals' tag
Few markets in the United States are as ripe with corruption as the medical market:
A drug that treats a variety of white blood cell cancers typically costs about $148,000 a year, and doctors can customize and quickly adjust doses by adjusting how many small-dose pills of it patients should take each day—generally up to four pills. At least, that was the case until now.

Last year, doctors presented results from a small pilot trial hinting that smaller doses could work just as well as the larger dose—dropping patients down from three pills a day to just one. Taking just one pill a day could dramatically reduce costs to around $50,000 a year. And it could lessen unpleasant side-effects, such as diarrhea, muscle and bone pain, and tiredness. But just as doctors were gearing up for more trials on the lower dosages, the makers of the drug revealed plans that torpedoed the doctors' efforts: they were tripling the price of the drug and changing pill dosages.
Before some socialist reads this and thinks that they're going to be oh so clever by posting, "See? This is what happens under capitalism," let me explain how this kind of behavior is enabled by government.
In a market unrestrained by government interference, news stories like this would result in competitors making cheaper alternatives to the drug in question. However, in this case the manufacturer has a patent, a government sanctioned monopoly, on the chemical makeup of the drug, which makes it illegal for other manufacturers, at least in countries that recognize the patent, to make a product using that same chemical makeup. If a drug manufacturer wants to triple the price of their patented products, there's nothing to stop them because no competition exists.
If you look at drugs that are no longer patented, there are usually several generic alternatives to the name brand drug. These generics have the same chemical makeup and therefore do the same thing but they usually cost a fraction of the cost of the name brand version. Once a generic is on the market the original manufacturer can either keep their prices absurdly high and lose a bunch of business or bring their prices down to a more reasonable level in an attempt to compete.
Unfortunately, so long as manufacturers can patent chemistry, they can set their prices as high as they want.
Civilians cannot be trusted with firearms and ammunition, only responsible and accountable government agencies can be:
The Bureau of Alcohol, Tobacco, Firearms and Explosives (ATF) does not have the best reputation vis-à-vis guns, and a new internal audit finds the agency has a record of carelessness with its own weapons.

Though the ATF does not lose guns at the rate it once did, it had "26 instances of lost, stolen, or missing firearms" in the fiscal years 2014 to 2017, and at least one of those weapons is known to have been used in commission of a crime. Some of these guns were lost in diners or on the Washington Metro system. One was discovered by an agent's neighbor, who found it sitting on the roof of the agent's car.

Perhaps more troubling given the sheer scale of the problem is ATF's missing ammunition. The report found "several significant deficiencies related to tracking and inventory of ammunition. For example, ammunition tracking records were understated by almost 31,000 rounds at the 13 sites we audited." Extrapolated across the agency's 275 offices, that comes out to about 650,000 missing rounds. Explosives were also not correctly inventoried in some offices and may be lost or stolen as well.
26 lost firearms, 650,000 missing rounds of ammunition, and a probability that some explosives were lost? So responsible!
This story is a good reminder that government agents aren't the most responsible individuals. And why should anybody expect them to be? They're not handling their own gear, they're handling gear that was paid for by tax payers. If they lose or damage something, tax payers will be forced to buy a replacement. Furthermore, irresponsible government agents are seldom punished for their irresponsibility. If they lose or damage something, not only will they receive a replacement courtesy of the tax payers, but they also won't be reprimanded in any meaningful way.
The findings of this report aren't unique. Every year we see reports about government agents losing equipment. So why do statists continue to believe that the government is more responsible and trustworthy than civilians? I'm left to believe that it's due to a gold-medal-worthy mental gymnastics performance. There is no way that somebody could comprehend this report and conclude that the Bureau of Alcohol, Tobacco, Firearms, and Explosives is more trustworthy with firearms and ammunition than the average civilian.
Formerly Great Britain is known for having passed pretty much every kind of weapons control law on the books. According to believers in law, this should make Britain one of the safest places on earth. But that's not the case. Britain still suffers from a not insignificant number of murders committed with weapons:
London has endured a significant increase in knife crime, with 15 dying in February, nine of whom were aged 30 or younger. Meanwhile 14 were killed in the Big Apple.

London also suffered 22 fatal stabbings and shootings in March, higher than the 21 which took place in New York, according to the report in the Sunday Times.

Both cities have populations of similar sizes which are around 8.5 million people. While New York City's murder rate has gone down – decreasing by around 87 per cent since the 1990s – the Big Smoke's has simultaneously surged. London's has increased by nearly 40 per cent in the space of three years alone – not including deaths caused by terrorist attacks.
How can this be? Simple, laws are irrelevant. Britain may have passed a bunch of laws heavily restricting both knife and firearm usage but those laws are nothing more than words on pieces of paper. If an individual wants to stab somebody with a knife or shoot somebody with a gun, the laws prohibiting them from doing so cannot physically stop them.
Many people make the mistake of believing that they don't have to have a means of defending themselves so long as laws prohibit other people from possessing weapons. They never stop to consider the fact that physically attacking somebody is already against the law throughout most of the world yet people still do it. Logically speaking, if individuals can act in spite of one law, then they can act in spite of any other law. That means that no matter what laws exist on the books, you need to have a plan to defend yourself, even against weapons that are illegal to possess.
Yesterday I mentioned the changes Microsoft made to its terms of service and touched on the one sided licensing agreements to which users must agree in order to use Microsoft's services. Today I want to take the discussion one step further by explaining the dangers these one sided agreements have to users integrated into entire company ecosystems.
Imagine that you, like many people, are heavily tied to Microsoft's ecosystem. You have an Xbox 360 and an Xbox One. You play games online with your Xbox Live Gold membership. Your home computers all run Windows 10. You use Outlook.com for e-mail. You're a developer who relies on Visual Studio to do your job and utilize One Drive and Office for online collaboration with coworkers. When you're traveling to customer sites, you rely on Skype to keep in touch with your family. Your Microsoft account pretty much touches every facet of your life.
Now let's say you're on a work trip. While talking to your wife on Skype you say and offensive word and somebody at Microsoft just happens to be monitoring the session. Perhaps this individual is a stickler for the rules, perhaps they're just having a bad day. Either way they decide to exercise Microsoft's right under the terms of service to which you agreed to terminate your Microsoft account right then and there. Your Skype session terminates immediately. You can no longer access your e-mail. Your entire trip to the customer site is wasted because you no longer have the tool you need, Visual Studio, to do your job.
The trip was a complete loss but the pain doesn't stop there. When you get home and decide to blow off some steam by tearing apart people online, you find that your Xbox Live subscription has also been terminated. You aren't even able to play offline games because you purchased them all via the Xbox One Store and the licenses for those purchases were tied to your user account, which was terminated. Much of your life has come to a grinding halt because one Microsoft employee monitoring your Skype session decided to terminate your account.
While one could accuse me of hyperbole for concocting this scenario, it is a very real possibility under the terms of service to which you agree when signing up for a Microsoft account. The terms of service give you no power and Microsoft absolute power. Microsoft can make whatever rules it wants whenever it wants and your only options are to submit or not use its services.
Microsoft isn't even unique in this regard. The same one sided agreements are made when you create a account with Google, Apple, Facebook, Twitter, or pretty much any other service provider. The sad truth is that most of us rely heavily on accounts that we have no real control over. Your Google account could be suspended tomorrow and with it would go your Gmail account, any apps you've purchased for Android via the Play Store, revenue derived from YouTube ads, etc.
The licensing model ensures that we don't actually own many of the things that we rely on. The one sided agreements to which we agree in order to access services that we rely on ensure that we have no recourse if our accounts are suspended. We're effectively peasants and our lords are our service providers. What makes this situation even worse is that it's one we helped create. By submitting to one sided agreements early on, we told service providers that it's acceptable to take all of the power for themselves. By being willing to license software instead of owning it, we told developers that it's acceptable to let us borrow their software instead of purchase it. We put ourselves at the mercy of these service providers and now we're finally faced with an absurdly high bill and having regrets.
Big changes came to the Internet shortly after Congress passed the Stop Enabling Sex Traffickers Act (SESTA). SESTA, like most legislation, has a name that sounds good on the surface but actually conceals some heinous provisions. One of those major provisions is holding website owners criminally liable for user generated content. This resulted in some drastic changes to sites like Reddit and Craiglist:
So far, four subreddits related to sex have banned: Escorts, Male Escorts, Hookers, and SugarDaddy. None were what could accurately be described as advertising forums, though (to varying degrees) they may have helped connect some people who wound up in "mutually beneficial relationships." The escort forums were largely used by sex workers to communicate with one another, according to Partridge. Meanwhile, the "hooker" subreddit "was mostly men being disgusting," according to Roux, "but also was a place that sometimes had people answering educational questions in good faith."

[…]

Reddit yesterday announced changes to its content policy, now forbidding "transactions for certain goods and services," including "firearms, ammunition, or explosives" and "paid services involving physical sexual contact." While some of the prohibited exchanges are illegal, many are not.

Yet they run close enough up against exchanges that could be illegal that it's hard for a third-party like Reddit to differentiate. And the same goes for forums where sex workers post educational content, news, safety and legal advice. Without broad Section 230 protections, Reddit could be in serious financial and legal trouble if they make the wrong call.
The passage of SESTA set a precedence that will certainly expand. Today Section 230 protections can be revoked for user generated content about sex trafficking. Tomorrow it could be revoked for user generated content involving hate speech, explaining the chemistry and biology behind how prohibited drugs work, showing the mechanics of how a machine gun operates, and so on. User generated content is now a liability and will only become more of a liability as the precedence is expanded.
Will this rid the world of content about sex work, drugs, and guns? Of course not. It will merely push that content to anonymized servers, commonly referred to as the "darkweb." As laws make hosting content on the non-anonymized Internet a legal hazard, Internet users will find that they need tools like I2P and the Tor Browser to access more and more of the content they desire. The upside to this is that it will lead to a tremendous increase in resources available to developers and operators of "darkweb" technologies. Eventually the laws passed to thwart unapproved behavior will again make restricting unapproved behavior all but impossible.
How much are you willing to put up with from your employer? Apparently Facebook's and Google's employees are willing to put up with a lot:
For low-paid contractors who do the grunt work for big tech companies, the incentive to keep silent is more stick than carrot. What they lack in stock options and a sense of corporate tribalism, they make up for in fear of losing their jobs.

One European Facebook content moderator signed a contract, seen by the Guardian, which granted the company the right to monitor and record his social media activities, including his personal Facebook account, as well as emails, phone calls and internet use. He also agreed to random personal searches of his belongings including bags, briefcases and car while on company premises. Refusal to allow such searches would be treated as gross misconduct.

Following Guardian reporting into working conditions of community operations analysts at Facebook's European headquarters in Dublin, the company clamped down further, he said.

Contractors would be questioned if they took photographs in the office or printed emails or documents. "On more than one occasion someone would print something and you'd find management going through the log to see what they had printed," said one former worker.
Socialists are quick to blame working conditions described in the article on capitalism. However, the paranoia demonstrated by government owned and operating factories in socialist nations indicates that this behavior isn't unique to capitalist employers. I believe that working conditions like those described in the article are a product employees not recognizing their own worth and that they're not the company for which they work.
Let's address the first part, an employee's worth. The employer-employee relationship under capitalism is far more balanced than socialists like to admit publicly. While socialists won't publicly admit that the employer-employee relationship is balanced they do acknowledge it in their strategies because their strategies are built on employee actions such as strikes and, in the case of more radical socialists, sabotage. Strikes rely entirely on the fact that an employer is reliant on their employees.
If a large percentage of Google's and Facebook's employees quit, both companies would suffer a great deal. Facilities deteriorate without maintenance personnel. Software can't be written without developers. Web infrastructure tends to fail without information technology personnel to maintain it. Without employees to perform all the daily tasks that keep Google and Facebook running, both companies would grid to a halt.
An employee's worth extends beyond the confines of whatever company they're working for at a given moment. If they're even mediocre at performing their job, they can generally find employment elsewhere, especially if they have a big name like Google or Facebook on their resume. Many employees let themselves become psychologically reliant on their employer. It's like they believe that their the skills they've developed can be seized by their employer if they leave. Skills are something you take with you when you leave an employer, which is why employees shouldn't be afraid to walk away from an employer.
If your employer is treating you poorly, take your skills to another employer or use them to start your own business.
Now let's address the second part, the fact that an employee is not the company for which they work. I think I can best summarize this with a meme.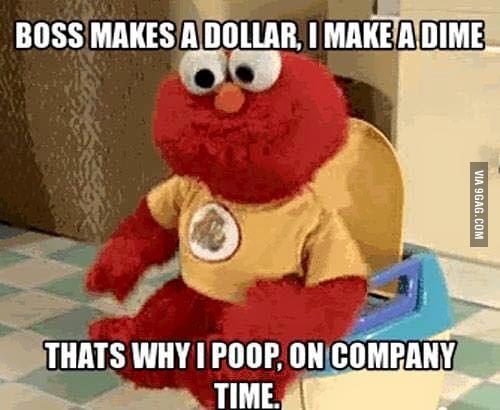 If the company an employee works for makes major profits, they may not see any additional pay. The profits go to the person who is taking the risks, the employer. On the surface this may look like a raw deal for employees but it offers them a great deal of freedom. If the company goes bust, the employer goes broke but the employees get to walk away with any money they've made and skills they've developed. In other words the success of an employee isn't dependent on the success of any single employer. That being the case, employees should recognize that they're effectively mercenaries and that their loyalty should be first and foremost to themselves.
If your employer is treating you poorly, don't let a sense of loyalty to them stop you from abandoning ship. Instead let your sense of loyalty to yourself motivate you to abandon ship and either seek a better employer or start your own business.
I believe if employees recognized their own worth and that they're not the company for which they work, employers would be far more hesitant to establish working conditions like those described in the article due to the fear of pissing off their employees enough to convince them to leave.
Advocates for gun control like to scream, "Guns kill," and gun rights advocates like to respond by screaming, "Guns salve lives!"
I tend to give gun control advocates a bit more leeway in this case because I understand that their entire platform is built upon make-believe. If you believe in unicorns, it's not inconsistent to argue for unicorn rights. But many gun rights advocates seem to want to have their cake and eat it too. On the one hand, gun rights advocates rightly point out that guns are inanimate objects and are therefore incapable of killing. However, an inanimate object is also incapable of saving lives.
To my fellow gun rights advocates, I urge you to be consistent in your arguments. If you rightly point out that guns are inanimate objects incapable of taking a life, don't follow up by saying that guns save lives. Don't restrict yourself to arguing inside of the gun control advocates' fantasy land where guns are animate objects capable of acting.
One of the rarest things in politics is a politician who advocates for actual solutions to actual problems. Brian Ellison is one of those rare politicians:
Brian Ellison, who is running against Democratic incumbent Debbie Stabenow, says homeless people are "constantly victims of violent crime" and providing them with firearms would provide a deterrent.

Ellison, a Libertarian who is expected to be the party's candidate in the November midterm election, said he had settled on pump-action shotguns for practicality purposes.

"Frankly I think the ideal weapon would be a pistol," he told the Guardian, "but due to the licensing requirements in the state we're going to have a hard enough time getting homeless people shotguns as it is.

"Getting them pistols is probably next to impossible. The pistols need to be registered, people have to have addresses."

Carrying a concealed pistol is illegal without a permit, Ellison said, "whereas open-carrying a long gun is completely legal".
It's too bad that he's running as a Libertarian Party candidate and therefore has pretty no chance whatsoever of actually being elected. But I'm glad to see he's at least throwing a good idea out there. The war being waged by most municipal governments against their homeless population is currently one-sided.
I also like how this policy points out the discriminatory nature of Michigan's pistol laws. If you don't have an address, you don't have a right to defend yourself. Although I'd call this a flaw, I'm fairly certain that the politicians who wrote the law consider it a feature.
Swarm Technologies applied to the Federal Communications Commission Fascist Communications Club (FCC) for permission to launch a handful of satellites. The FCC denied the company's application. But the United States doesn't have a monopoly on spaceflight so Swarm Technologies shopped around and was able to get its satellites into the air thanks to India. Now the FCC is claiming that it owns all of space:
One company might not have been willing to take "no" for an answer, however. IEEE Spectrum has discovered that the FCC accused startup Swarm Technologies of launching four of its tiny SpaceBEE (Basic Electronic Elements) communication cubesats without obtaining the necessary approvals — in effect, it would be the first satellite maker to go rogue.

The FCC denied Swarm's application to launch its satellites in December 2017 on the grounds that they posed a safety hazard to other spacecraft orbiting Earth. That apparently wasn't a deterrent, as the SpaceBEEs appear to have launched aboard one of India's Polar Satellite Launch Vehicles on January 12th (you're looking at the rocket above). Needless to say, that left officials fuming. The FCC revoked Swarm's approval for a subsequent mission that would have taken place this April, citing an "apparent unauthorized launch and operation" of the four satellites.
The fact that the FCC revoked Swarm Technology's approval for future missions is especially funny since the company demonstrated that it didn't need FCC approval to get its satellites into space. But doing so probably fed some petty bureaucrat's power trip and that's all government approval is capable of doing in a global economy.
The world has become more connected. It's trivial to communication with people on the other side of the globe in real time. Traveling across oceans takes a matter of hours, not days or weeks. If the government of a region is standing in your way, you can shop around for a region that will allow you to do what you want to do and transport whatever you need to that region. If worst comes to worst, a company can move itself entirely to a friendlier region.
The public sale of cannabis has been legal in Colorado since January 1, 2014. Three years later and none of the doom and gloom predictions of the prohibitionists have come to pass. Now Colorado is planning to step up its game of chipping away at the drug war by considering lowering the severity of psilocybin possession:
The group calls itself Colorado for Psilocybin after the fungi's scientific name. Their proposed measure would do away with felony charges for people caught with mushrooms, and make them the lowest enforcement priority for Denver police.

Anyone caught with more than two ounces of dried mushrooms, or two pounds of uncured "wet" mushrooms, would be subject to a citation: less than $99 for the first offense, increased by increments of $100 for subsequent offenses, and never more than $999 per citation.
If this is passed, the prohibitionists will once again predict doom and gloom and their predictions will once again fail to manifest. Despite what prohibitions believe, consuming psilocybin doesn't turn an individual into a killing machine. What is can do though is help those suffering from depression and, of course, offer those looking for a good psychedelic trip what they want.
I really hope that this is the beginning of the next chapter of an individual state telling the feds where to stick their drug war.