Archive for the 'Politics' tag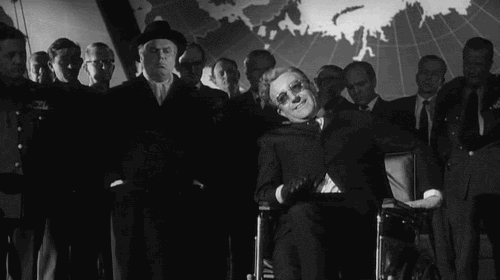 The rider of the white horse comes forth to deliver judgement:
At least a dozen California GOP staff members at the Republican National Convention have been quarantined in their hotel rooms after becoming ill with what appears to be a highly contagious norovirus, also known as the cruise-ship virus, according to officials from both the California GOP and local health agencies.
The Republican Party likes to market itself as the party of freedom. Here is a sign listing items prohibited from the Republican National Convention (RNC) this year: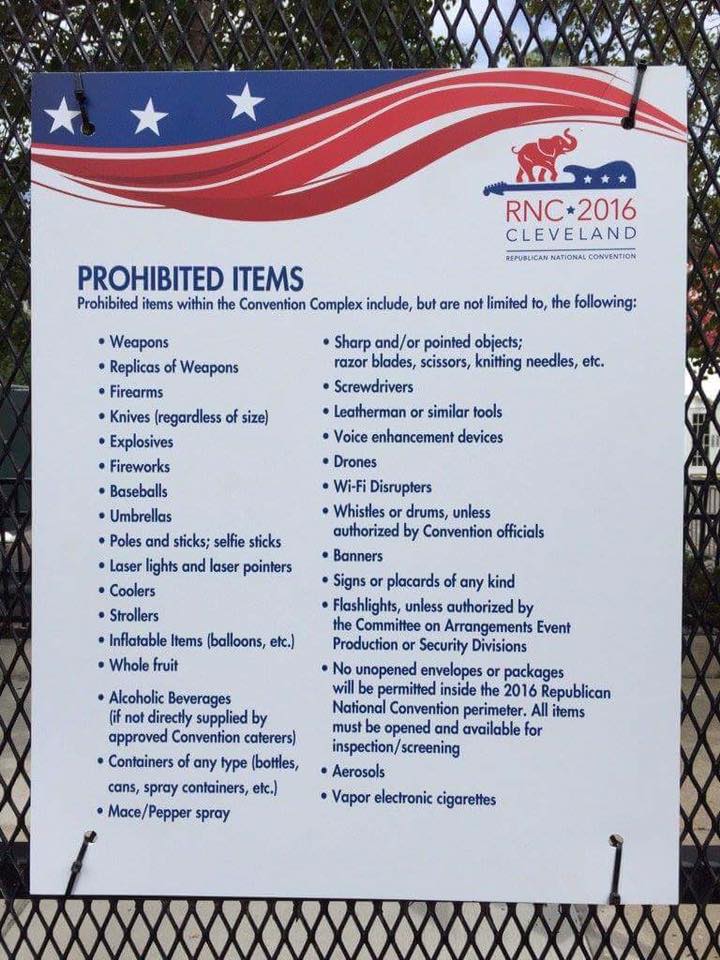 The first thing that probably pops out to most of you is the prohibition against weapons. While the Republican Party likes to pay lip service to gun rights its actual support is far less enthusiastic than advertised. When I point out this common restriction at Republican Party events many people are quick to tell me that the Secret Service, which many Republican Party politicians use for protection, dictates that rule. However, nobody is required to utilize Secret Service protection. If these Republicans actually cared about the right of the people to keep and bear arms they would tell the Secret Service to buzz off unless it utilized a ruleset that also respected the rights of individuals. But they don't care about gun rights beyond lip service.
Some of the other restrictions are just bizarre. No umbrellas? If it rains I guess convention goes can just suck it up and deal with being wet. No strollers? I guess I agree that politician conventions are no place a responsible parent would take their small child. But political types always want to start brainwashing children at a young age so this prohibition seems out of place. No whole fruit? Does that mean sliced fruit is okay? What about whole vegetables?
I think the sign speaks volumes about the Republican Party in general.
I've been focusing a lot on the law enforcers as of late but I think it's important to also take a look at the people who create the laws. Specifically, what incentives they put forward for enforcing different laws.
What does a law enforcement department receive when they solve a murder, robbery, or rape? Perhaps some respect from the community and the gratitude of the victims.
What does a law enforcement department receive when they go after a suspected drug user or seller? A percentage of the proceeds from the property taken under civil forfeiture.
What does a law enforcement department receive when they write a traffic citation? Here in Minnesota, as I'm sure is true with most other states, a percentage goes to the cities, which usually give that money back to their law enforcement department.
The law enforcers are focusing on the crimes that the politicians have incentivized them to focus on. The fact that the politicians are incentivizing crimes such as drug manufacturing, selling, and use over murder, robbery, and rape should be damning.
Pop quiz time. Can you own property in Minneapolis? The answer is no. You can rent property in Minneapolis but that rental is subject to paying property taxes and utilizing the land in a manner that is expressly approved by the city council. If that last part sounds a bit strange it's because you down own a surface parking lot. You see, the city council of Minneapolis has a dream. In that dream Minneapolis looked like Mega City I from Judge Dredd. Surface parking lots can't pack in a million people so they're on the list of properties to be axed.
So far the city council has been playing a cautious game but that looks like it may change:
It was a routine briefing of a Minneapolis City Council committee on a seemingly unrelated topic, but it offered the chance to rouse a long-simmering issue in Minneapolis:

What can the city do to rid itself of the acres of surface parking lots in and around downtown?

While development activity has seen many of those lots disappear, many remain — too many, according to Council Members Lisa Goodman and Jacob Frey, who used the May 11 briefing to press city assessor Patrick Todd to do something about it.

Like what? Goodman thinks the city should use state requirements that require property be assessed on its "highest and best use" — and not on its current use — to incentivize owners to either develop the land or sell to someone who will.
Because parking is scarce in Minneapolis a person can make pretty decent money with a surface parking lot. That really bothers certain council members such as Lisa Goodman. It bothers her so much that she wants to change the rules to make them unprofitable. That rule change is a simple one. Instead of assessing a parking lot as a parking lot for property tax purposes she wants to assess them as if they were being used for her vision of their best use. Since her vision is high density apartment complexes the assessment would jack up the property taxes to, she hopes, a level the owners can't sustain. In fact she flat out says that they must not be paying enough taxes:
"If they're making enough money by selling parking downtown," she said, "then they're not being taxed high enough, and they're certainly not being taxed high enough for a potential Class A office use."
Do you know what those surface parking lots were taxed enough for? Funding a study to decide on how best to destroy them:
In 2013, amid planning for the new Vikings Stadium, the group HR&A Advisors conducted a $40,000 study of ways to reduce the number of surface lots in Minneapolis. Several council ordinances have sought to force beautification of parking lots, something that could have also increased the costs associated with operating them. And a bill introduced by state Sen. Scott Dibble, DFL-Minneapolis, would allow Minneapolis and St. Paul to impose a per-stall fee on parking, with revenue going to public plazas, transit lines, bike facilities and pedestrian improvements.
This is another reason you should avoid paying whatever taxes you can. When you pay taxes they are often used to fund your destruction.
What we have here are central planners run amuck. Consumers have already spoken and they want surface parking lots. How can I say this since there hasn't been any kind of vote? Unlike voting, the market actually indicates what consumers want. Because there are enough consumers paying to use these surface parking lots to make them profitable we know for a fact that those lots are in demand with consumers. Goodman doesn't like them and instead of offering to buy those lots herself she's using tax dollars to fund studies to determine the best way to destroy them… in a manner that requires the denizens of Minneapolis pay for it.
In the end I predict that the city council will get its way because it will just keep cranking up the taxes until it bleeds surface lot owners dry. Then those lots will sit empty because if developers really wanted those lots they'd have already bought them.
The Republican and Democratic parties seem to disagree on many things but they can agree on one thing: they both hate Muslims. But the Republican Party is far more overt about its hatred. Still, like most racists, the party usually tries to keeps its hatred tucked under a burqa thin veil of justifications that aren't related to religion or race.
Every now and then one of the Republicans slips off of his leash and blatantly states their views on Islam. Funny enough, that view almost always reflects how the Nazis views the Jews:
An Oklahoma lawmaker personally propagated an article over the weekend calling for a "final solution" regarding "radical Islam," arguing that the 1,400-year-old faith is not a religion and should not be protected under the first amendment of the Constitution.

On Sunday, Oklahoma State Rep. Pat Ownbey re-published an article to his Facebook page entitled "Radical Islam – The Final Solution." The article was originally published on the personal blog of Paul R. Hollrah, an Oklahoman who touts himself as a "retired government relations executive," but Ownbey appears to have copy-pasted the piece and reposted it in its entirety, citing Hollrah.

[…]

"And since the 95% of Muslims who are described as either 'moderate' or 'un-radicalized' appear unwilling to play an active role in keeping their radicalized brethren in check, we have no long term alternative but to quarantine them… prohibiting them from residing anywhere within the civilized nations of the Earth," he writes.
The Nazis felt that the Jews had to be quarantined as well. That's not even a case of Godwin's Law, that's historical fact. Likewise, they called their plan the final solution.
A lot of people argue that the State is necessary to defend against bigotry such as racism, religious prejudice, and sexism. While that sounds good on paper the reality is that the State is usually the biggest enabler of persecution. It was, after all, the United States government that legally required citizens and individual states to help capture and return escaped slaves. It was the United States government that rounded up people of Japanese decent and put them in concentration camps. passed and enforced by state and municipal governments. In other words, the worst forms of bigotry are created and enforced by the State. Without an apparatus as big and as powerful as the government of Nazi Germany, the Holocaust would not have been possible. That's why it's far scarier when members of the State talk about persecuting people than when individuals do. It's also why defending against bigotry doesn't require the State but the abolition of the State.
Yesterday the Democrats had a little sit-in. They were trying to prevent any politicking from happening until the Republicans agree to vote for a gun control bill. Let me start off by saying that preventing politicking from happening is a noble thing. I think the Democrats were being a shining example for their fellow politicians. More politicians should sit around and do nothing. The longer they sit and do nothing the longer they're not voting on measures and the longer the people can enjoy relief from the tyranny of law makers.
But it behooves us to look at their motives. Many Democrats cheered their fellow politicians on. They believed this sit-in is noble because of what the Democratic politicians were trying to achieve. However, what they were trying to achieve was to prohibit Muslims from owing firearms:
While sit-in participants are also advocating for expanded background checks and an assault weapons ban, their primary call to action is for a vote on a measure that would ban gun sales to people listed on a federal government watchlist – a move clearly designed more for its political potency than for its effectiveness.

And the government's consolidated terrorist watchlist is notoriously unreliable. It has ensnared countless innocent Americans, including disabled war veterans and members of Congress. Nearly half of the people on these watch lists were designated as having "no recognized terrorist group affiliation," according to documents obtained by The Intercept in 2014.
What little we do know about the terrorist watch lists, thanks to a handful of leaks, is that over 40 percent of the names on them aren't affiliated with any known terrorist organizations and that many of the names sound Muslim. There's nothing noble about trying to block people of a specific religion from buying firearms. In fact, not to go all Godwin (since this is an accurate historical example), that's exactly what the Nazis did to the Jews.
People criticize the Republicans for persecuting Muslims and rightly so. But the Democrats seem to get a pass even though they're working towards the same ends. They're two sides of the same fascist coin.
You probably read the title of this post and wondered what Brennan did this time to piss me off. Truthfully he didn't really piss me off this time. What he did was make a public statement that really requires being an idiot to make.
Everything old is new again. As before, the United States government is busy debating whether or not mandatory backdoors should be included in civilian encryption. Security experts have pointed out that this is a stupid idea. Crypto-anarchists have pointed out that such a law would be meaningless because the Internet has enabled global communications so finding foreign encryption algorithms that don't include a United States backdoor would be trivial. Hoping to refute the crypto-anarchists, John Brennan made this statement:
Brennan said this was needed to counter the ability of terrorists to coordinate their actions using encrypted communications. The director denied that forcing American companies to backdoor their security systems would cause any commercial problems.

"US companies dominate the international market as far as encryption technologies that are available through these various apps, and I think we will continue to dominate them," Brennan said.

"So although you are right that there's the theoretical ability of foreign companies to have those encryption capabilities available to others, I do believe that this country and its private sector are integral to addressing these issues."
Theoretical ability? Let's have a short discussion about the Advanced Encryption Standard (AES). AES is one of the most prolific encryption standards in use today. Most full disk encryption tools, many Transport Layer Security (TLS) connections, and a load of other security tools rely on AES. Hell, many devices even include hardware acceleration for AES because it's so heavily used. AES was originally a competition held by the National Institute of Standards and Technology (NIST) to find a modern encryption standard. In the end an algorithm called Rijndael won. Rijndael was created by Joan Daemen and Vincent Rijmen. If those two names sound foreign it's because they are. Joan and Vincent are Belgians. So one of the most common encryption algorithms in use today, an algorithm chosen by an agency of the United States government no less, was created by two foreigners. I'd say foreign encryption tools are a bit beyond theoretical at this point.
Adding insult to injury, let's discuss Theo de Raadt. Theo, for those who don't know, is the creator and lead developer of both OpenBSD and OpenSSH. OpenBSD is an operating system known for being security and OpenSSH is probably the most common secure remote connection tool on the planet. Both of them are developed in Canada:
It's perhaps easy to forget, but the cryptographic landscape was quite different in 1999. A lot has changed since then. Cryptographic software was available, but not always widespread, in part due to US export controls. International users either had to smuggle it out printed on dead trees, or reimplement everything, or settle for the 40 bit limited edition of their favorite software. Many operating systems originated in the US, so it was difficult to integrate cryptography top to bottom because there needed a way to build the export version without it. OpenBSD had the advantage of originating in Canada, without such concerns. The goto public key algorithm of choice, RSA, was encumbered by a patent for commercial use. The primary symmetric algorithm was still DES. You could use blowfish, of course, but it wasn't officially blessed as a standard.
Again, the availability of foreign encryption tools is more than theoretical. I would think the director of the Central Intelligence Agency (CIA), which is supposedly tasked with spying on foreign countries, would be very aware of that. But the CIA has a long history of failure so it being unaware of very real encryption tools originating in foreign countries isn't really that surprising.
Who can those with nothing turn to for help? Many people will say the government and they would be wrong. The State hates the homeless because they have nothing to steal. Therefore it wants them to go away. While outright murdering homeless individuals would be frowned upon, making the lives of homeless individuals so miserable that they migrate elsewhere and become somebody else's problem is perfectly acceptable to the general public.
San Diego, hoping to make the lives of homeless individuals within its borders more miserable, has installed large rocks under many roadways to prevent homeless individuals from sleeping there:
In late April, after jagged rocks were installed along a freeway underpass to drive out homeless encampments, a city spokesman told reporters the project was at the request of residents of Sherman Heights, a working-class neighborhood just east of the 5 Freeway, who felt unsafe walking down Imperial Avenue.

Turns out, it had more to do with San Diego's upcoming time in the spotlight as the host of baseball's All Star Game at Petco Park on July 12.

Sherman Heights is never mentioned in more than 700 pages of email documents about the rocks, obtained under the California Public Records Act

[…]

Casey included the rocks in a checklist of work to be done before the All-Star Game. Emails also show that initial plans called for rocks along the base of a wall at Tailgate Park, between 12th and 14th streets and outside the New Central Library — which overlooks the ballpark — to keep away homeless people.

[…]

In a later email, Casey emphasized that the rocks needed to be of different heights so that no one could put down a plank of wood to try to sleep.
Those homeless people are such an eyesore and they'll make the city look bad come baseball season so we need to make their lives miserable in the hopes that they'll go somewhere else. How the State treats the homeless may be the single most illustrative example of how the State "fixes" problems. It never actually works to address the problems it's "fixing", it just sweeps them under the rug and tells people everything has been taken care of.
Supposedly the Libertarian Party tries to get libertarians elected into offices. The party has a funny way of going about that goal though. For example, the party hasn't nominated an actual libertarian presidential candidate for at least as long as I've been old enough to vote. This year's ticket is no different.
Gary "Ban the Burqa" Johnson was nominated to be the Libertarian Party's presidential candidate this year. Although the Libertarian Party doesn't allow presidential candidates to outright pick their running mates, the party voters are usually willing to roll over and approve whoever their presidential candidate wants. Johnson wanted Bill Weld and the Libertarian Party, apparently deciding it didn't want any libertarians on its presidential ticket, was happy to comply.
After the shooting in Orlando Weld decided to show his anti-libertarian colors:
Bill Weld, the former governor of Massachusetts now running as the Libertarian Party's candidate for vice president, called today for a 1,000-agent task force to combat Islamic State adherents in the United States, and for a tip line where Muslims could inform on radicalism.

"Let's face it: The United States is under attack right now by ISIS and ISIS copycats," Weld said. "They have a deep pool to pull from. There are over 3 million Muslims in the United States — maybe Mr. Trump will want to deport them all, but the better approach is to work with the community."

Weld, who served as U.S. attorney and then assistant attorney general in the DOJ's criminal justice division, suggested that the DOJ could take a cue from a program that worked in Massachusetts. The "Drop-a-Dime Project," a nonprofit tip line created by community leaders, was used by law enforcement to pursue tips about crime in Boston's black neighborhoods and to achieve breakthroughs in drug investigations.

"We'd get all kinds of tips," Weld said. "The residents of Dorchester and Mattapan were only too happy to help. There may be some people out there leaning toward ISIS, people who would want to shelter the people going around killing other people. But for every pair of ears that would be sympathetic, there will be pairs that will not be sympathetic."
I thought the Libertarian Party was all about shrinking government, not growing it. I guess this is what happens when the party doesn't nominates a libertarian for its vice presidential candidate.
I know the Libertarian Party, especially now that it's pulling people from the Republican Party, has a lot of statists within its ranks so this idea may sound appealing to them. Let's consider the effectiveness of such a program. I'll start by once again quoting Bruce Schneier, "If you ask amateurs to act as front-line security personnel, you shouldn't be surprised when you get amateur security." This is something libertarians tend to inherently understand. If you setup a program where average Joes are expected to rat out their neighbors you will get a lot of noise and very little, if any, signal.
How do you tell if somebody expressing sympathies for the Islamic State (IS) is merely angry at the way the United States and European countries have treated the Middle East or is planning to commit acts of murder in the organization's name? Most people can't tell and that's the problem with this kind of tip line. It would be flooded with "tips" from people who think somebody speaking out against the United States dropping bombs on wedding parts is sympathizing with IS. Many of the "tips" would likely come from people who just don't like their Muslim neighbors and see the tip line as a way to get the State to harass them. Well's proposal would create a 1,000-agent (you do have to appreciate how all of these proposals involve an arbitrary number of agents that is almost always cleanly divisible by 10) task force that does nothing productive (in other words, it'll be just like every other government agency).
I'm glad I don't play politics anymore. If I did I'd be depressed this election cycle because there are exactly zero acceptable candidates running for office.