Archive for the 'Random Funny Shit' tag
I'm a fan of Roman historical memes, especially ones that are somewhat clever: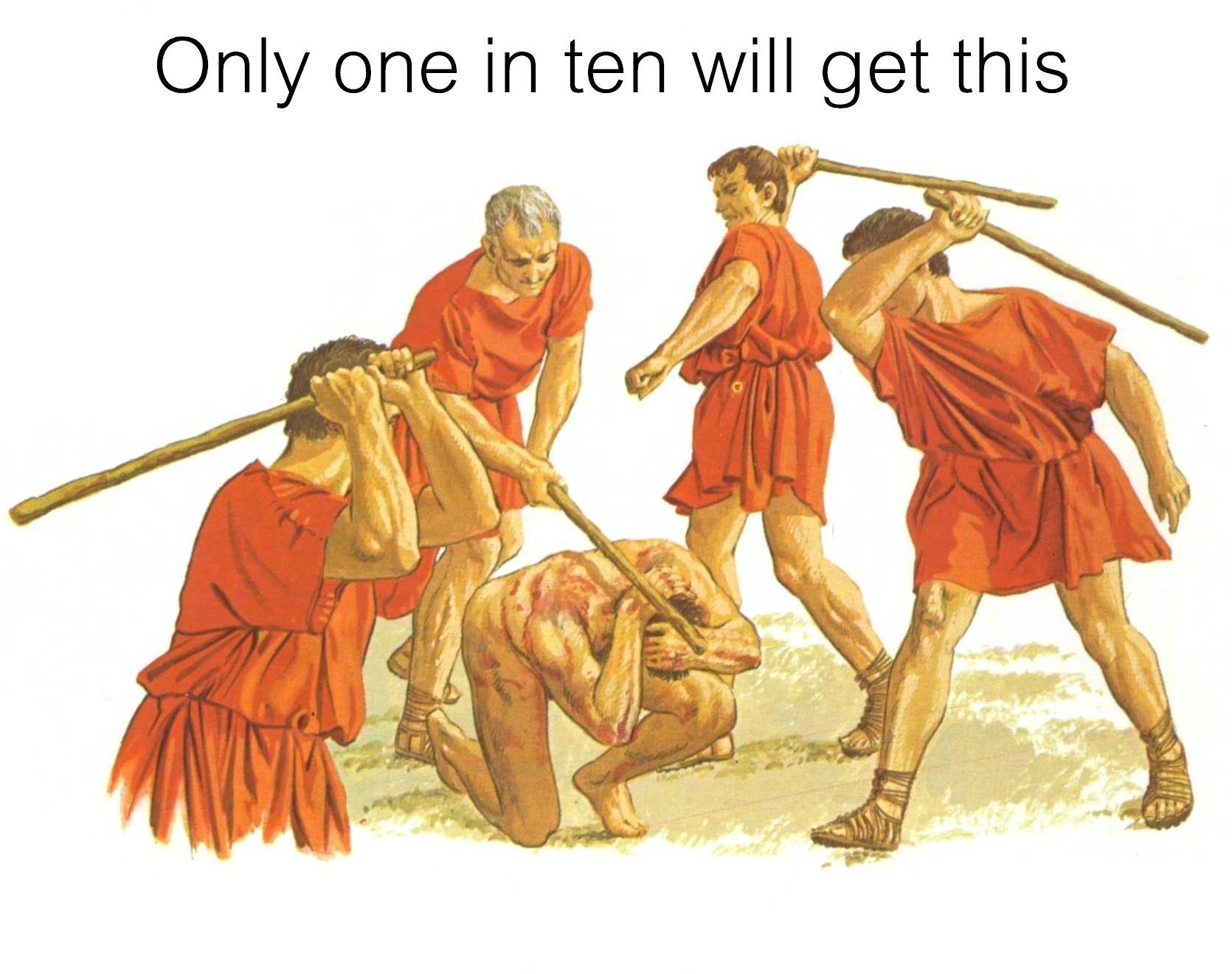 First the Republicans threw grandma off of a cliff. Now they're running people down with trains:
A train carrying Republican lawmakers to a retreat hit a lorry on the track in Virginia, killing the driver of the truck, says the White House.

Six people were injured, including another truck passenger who was airlifted out with critical injures.
Is there now low to which the Republicans won't sink?
I've seen a lot of people, primarily conservatives, flipping their shit because Nancy Pelosi referred to the up to $1,000 employee bonuses several companies announced after the latest tax legislation was passed as "crumbs":
House Minority Leader Nancy Pelosi said the bonuses being handed out to workers by businesses across the country following the passing of the Republican tax act are mere "crumbs."

[…]

"In terms of the bonus that corporate America receives versus the crumbs they are giving to workers to put the schmooze on is so pathetic. It's so pathetic," Pelosi said during a press briefing on Thursday.
Instead of criticizing her maybe people should take some time to empathize with her situation. Pelosi is a multimillionaire. $1,000 is literally crumbs to her.
I can't help but be disgusted by how out of touch the plebs are with the ruling elite!
If you watch a politician being grilled by the press, you can often see the disgust in their face as clear as day. Politicians don't like being questioned by lowly plebs but they usually put up with it because it helps them uphold the appearance that they care. The Prime Minister of Thailand isn't one of those politicians:
Thailand's prime minister has evaded journalists' questions by bringing out a life-sized cardboard cutout of himself and telling the reporters to quiz it instead of him.

Prayuth Chan-ocha then turned on his heel and walked off, leaving the mock-up behind, to bemused looks and awkward laughter from the Government House press pack.
I appreciate how upfront he is about not giving a damn about what the plebs think. It's too bad this kind of honestly wasn't more prevalent amongst politicians. Perhaps if it was, the masses would see the government for what it is instead of what they want it to be.
Designed by Apple in California is a tagline the company uses to add a little prestige to their Chinese manufactured electronics. In addition to designing electronics the company also designs its own stores. However, when people in California design stores they often overlook environmental issues that are rare there but common elsewhere, such as ice and snow:
Apple's new flagship retail store in Chicago, the one with a MacBook-shaped rooftop, is nothing short of an architectural marvel. At least, that's how some news reports put it when the store opened back in October. Beyond standing out among the less inspired buildings of the downtown Chicago area, the new Apple Store also happens to be very poorly thought through considering its thin roof now has dangerous icicles hanging perilously over public walkways.
Designed by Apple in a state that doesn't have to deal with arctic bullshit. As a Minnesotan I can't help but laugh at this.
Apple isn't the first company to run into this problem and it won't be the last. It's too easy to take architecture for granted. An architect in California can easily overlook the effects harsh winters will have on their building. An architect in Minnesota can easily overlook the effects earthquakes will have on their building. If you're tasked with designing a building that will be built in another region, it might be a good idea to contact some architects in that area and ask them about environmental issues they have to design around.
Making an arrest can be challenging for law enforcement officers, even bordering on chaotic at times. During an attempt to arrest a suspect, one police officer misjudged the destination of the taser prongs and, instead of just hitting the suspect, ends up firing a prong into his partner. During the tasing, the officer fell, hitting his head against the pavement.
To the officer's credit, he did hit the armed criminal.
The last presidential election is where third parties had a chance to shine. Both major parties were fielding the worst candidates that they could find. Unfortunately, the Libertarian Party threw away its chance of making itself known by once again nominating Gary Johnson when it had the chance to field this man:
There, naked but for an ammunition belt, was 71-year-old tech tycoon and former fugitive John McAfee, spraying bullets into the wall and ceiling of the living room.
That right there is the future libertarians want; a future where everybody has the freedom to wear nothing but an ammunition belt and fire rounds into their own damned property!
What's really funny is the fact that this man has a better grasp of libertarian principles and is better at expressing them than the Libertarian Party's nominee.
You've heard of the master race, now get ready for the master species:
It appears subculture, which has long been associated with gay and left-wing beliefs, is now being infiltrated by right-wing extremists known as "alt-furries".

The alt-furry movement started as a joke on Twitter, with right-leaning members sharing pro-Trump, furry-themed memes using the #AltFurries hashtag.

What started as the promotion of satirical policies such as a ban on "species mixing", soon became much more serious as the white supremacist agenda started to creep into real world furry events.
If I could come up with comedy this ridiculous, I'd probably have a great standup career.
It seems like everybody is obsessed with boogeymen. Whether it's Russians controlling American politics or Neo-Nazis infiltrating furry scenes, it seems like every group is being infiltrated by a sinister group that is the source for all of that group's problems. It's as if no group on the planet wants to take a look in the mirror and admit that its members are probably the most significant source of its problems.
Once in a while the War on Drugs brings us humor instead of tragedy:
Sources say it started when two special ops officers from the 12th Precinct were operating a "push off" on Andover near Seven Mile. That is when two undercover officers pretend to be dope dealers, waiting for eager customers to approach, and then arrest potential buyers and seize their vehicles.

But this time, instead of customers, special ops officers from the 11th Precinct showed up. Not realizing they were fellow officers, they ordered the other undercover officers to the ground.

FOX 2 is told the rest of the special ops team from the 12th Precinct showed up, and officers began raiding a house in the 19300 block of Andover. But instead of fighting crime, officers from both precincts began fighting with each other.

Sources say guns were drawn and punches were thrown while the homeowner stood and watched.
I'm glad to see the officers were fighting with the actual criminals for once.
A friend of mine posted the following picture on Facebook: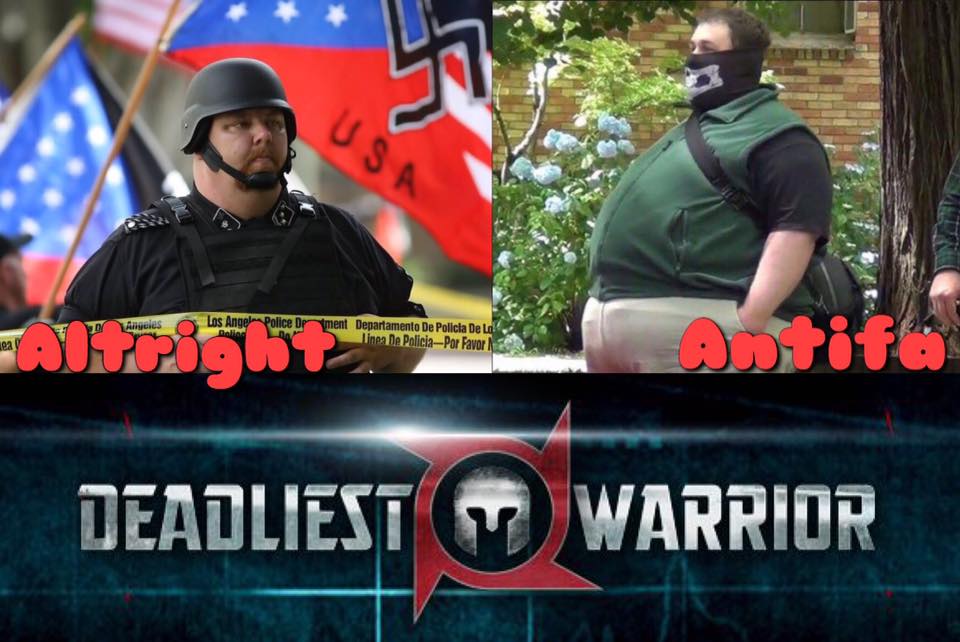 It really does illustrate a first world problem. Between the militias, III%ers, Neo-Nazis, Antifa, and a handful of other groups there are a lot of Americans who want to be militants. However many (if not most) of these individuals have enjoyed an overabundance of food and a luxurious lifestyle that has allowed them to avoid physical labor so they're too obese to fight anybody besides other obese Americans.