Archive for the 'Site News' tag
I spent last night loading ammunition and prepping for an early morning range drip (seriously, nobody is at the range at 8:00 in the morning, try it) instead of writing posts.
The new Deus Ex game came out and I decided to play that last night instead of blogging.
I'm guessing you're curious how the game is. So far the gameplay has been Deus Ex: Human Revolution plus more, which is a winning formula in my book. I haven't gotten very far in the game yet so I can't tell you how the story is but so far it's been decent.
I spent my blogging time last night working on backend nonsense. So there are a lot of cool new things that you won't even notice.
I've spent the last two days on a trip for work. I ended up on the red eye flight back home so I didn't have the energy to get anything posted for today. To entertain yourselves I'll leave you with a son off of Perturbator's new album (not everything I listen to is metal, I also enjoy retro-style electronic music):
Grandma Burg passed away at 8:45 on Christmas Day. She made it 90 years on this rock and although it is certainly hard on those of us still cruising on this spaceship her final years weren't easy ones and it's comforting knowing her suffering is over. And a more appropriate day than Christmas could not be had for a person as dedicated to Christ as herself.
In her 90 years she managed to raise five kids and keep my grandfather in line (no easy feat). Not only that but she managed those accomplishments while maintaining the most positive attitude I've every witnessed. She was a great person and this spaceship is diminished by her loss.
I'll be away from this blog for a few days. Between the funeral and other matters that must be attended to my focus will be very much elsewhere.
I'm sick as hell and don't feel like writing anything. See you again when I get better.
No new content again? I'm afraid so. Why? Because I was voiding a warranty: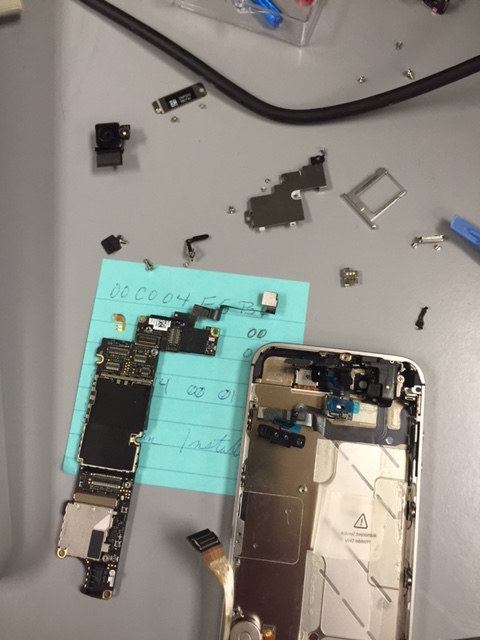 Somebody needed the power button in their iPhone 4S replaced and figured I was the man for the job. They were right. I replaced the button and the phone powered up again. Of course it doesn't boot up, but that part wasn't my fault as it wasn't actually booting up beforehand (and since the power button stayed in the stuck down position the thinking was that it was just turning off, due to the power button being held in, immediately after boot).
I will say that working on the iPhone 4S is pretty easy.
Between recovering from the plague, some server issues on the old server, and setting up an XMPP server I didn't have time to get posts up.
Setting up XMPP is interesting. The first task is finding a server of which there are surprisingly few good ones to choose from. Originally I was going to use ejabberd as I've used it long ago. But I saw the developers have split it into "community" and "business" editions with the former lacking a lot of features (such as compatibility with other instant messenger services). My second choice was Openfire, which I settled on. The downside of Openfire is that it's written in Java and I'm not of fan of installing Java on systems anymore (because I hate Oracle). Java aside, Openfire is pretty solid. The initial setup is a bit of a pain because it's not available in any CentOS repositories and you have to do a little manual setup for the MariaDB database. After that you gain access to a web interface that makes everything else simple.
Because the universe likes to make my life stressful the virtual machine I initially setup became corrupted when VMWare fucked up a snapshot operation. So I had to redo all of the work mentioned above again.
Right now I'm doing a beta test with friends. Once I'm satisfied it's solid I might make it available for others.
Instead of writing new articles I was working on a project: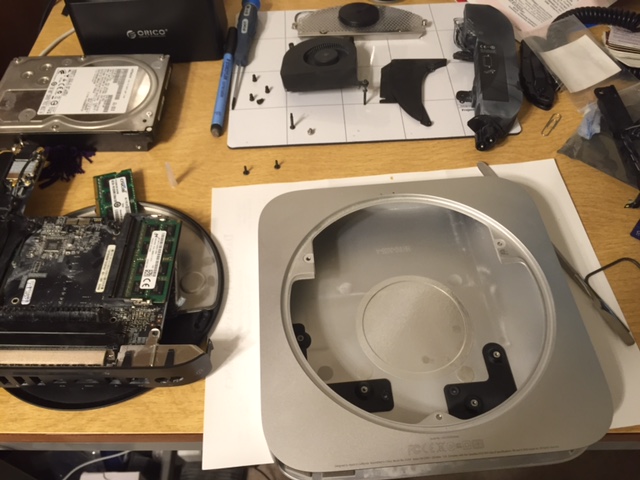 That's my old server (see, I wasn't shitting you guys about using a Mac Mini). Unfortunately one of the drives died so I need to dissect it and put new drives in it. It wasn't actually that bad of a project but the start of a cold or allergies (I'm not sure which) didn't help matters any. Anyways, check back tomorrow.